From LAU graduates to Fulbright scholars
Having received Fulbright scholarships, LAU graduates Ali Chehade and Alaa Ladkani will soon start their master's programs in the United States, with a promise to return to Lebanon.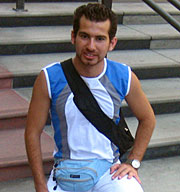 Ali Chehade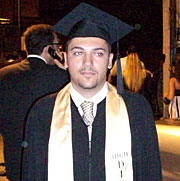 Alaa Ladkani

The prestigious American Fulbright Program of scholarships and grants that promotes educational exchange among students around the world has again granted two full scholarships to LAU graduates this year.

Ali Chehade, a 2007 communication arts graduate with an emphasis in radio, TV and film, will travel to the United States this week to continue his studies at Southern Illinois University in media management — a field he became interested in after some research, although initially being keen on broadcast journalism.

Alaa Ladkani — a 2009 graduate in economics with an emphasis in finance will begin studying applied economics with a specialization in financial economics at Marquette University, in Wisconsin, this fall.

Chehade learned about Fulbright, which is sponsored by the U.S. Department of State, after attending a six-week filmmaking workshop at the University of Southern California two years ago as part of another program sponsored by the State Department, the Fusion Arts Exchange, which also included traveling to other states.

A key goal of the Fulbright Program is to create cultural exchange, and that appeals greatly to Chehade who appreciates that Fulbright scholars are encouraged to become what he describes as "mini-ambassadors" of their countries. It's a "simple yet very important job to do," he says. As part of the Fulbright contract, participants must return to their home country for two years after completion of their studies.

After his two-year master's program in the United States, Chehade will return to Lebanon and has ambitions to teach at his alma mater. "One of my biggest hopes is to come back and teach at LAU," he says.

However, Chehade says his ultimate goal is to make a difference on a much greater scale —"I [would] like to be influential in society. With everything I do, my goal is to change something for the better," he says. He adds that he was inspired by fellow LAU alumnus and TV host Zaven Kouyoumjian, who was named one of 43 most influential people in the Arab world by Newsweek's Arabic edition in 2005.

Ladkani, on the other hand, completed one semester of pre-medicine (biology) at AUB before switching to his real passion — economics — and came to LAU the following year because the university offered him financial aid.

Ladkani is certain he wants to return to Lebanon after completing his studies in the States. While he doesn't have any specific plans, he is considering a career at the Lebanese Central Bank and was excited to hear Central Bank Governor Riad Salameh speak at his graduation.

"I love Lebanon, it's the country I grew up in and it's the country where I am going to spend my life in. We are only traveling to get knowledge and experience," Ladkani says.

Chehade and Ladkani join Farah Abou Hassan, LAU 2009 graduate in elementary education (emphasis in English), whose Fulbright Foreign Language Teaching Assistant scholarship was announced earlier this year.

After having returned on July 16 from Egypt where she attended a series of workshops, Abou Hassan will head to the United States on August 8 for additional training. Then, she will take four master's courses at the Florida State University, and help teach Arabic to students there.

After completing the program, Abou Hassan has the option of continuing her graduate studies — which she hopes to be in special education — at FSU or transferring the courses to any other university.

According to Maggy Teen, cultural affairs specialist at the U.S. Embassy in Lebanon, 11 LAU graduates have gone on to receive Fulbright scholarships since the program's re-launch in 2000 after a long hiatus during and following the Lebanese Civil War.

Chehade believes LAU students can capitalize more on this and other scholarship programs available. "There are many great opportunities and I feel bad that many people don't take them seriously," he says, adding he always encourages friends to apply for various grants.

Ladkani, who found out about the scholarship haphazardly when he visited AMIDEAST offices to do a TOEFL exam, encouraged other LAU students to apply for it too. "It's a really great scholarship and a once in a lifetime opportunity," he says.