From LAU to Oxford, an outstanding journey
Martine Abboud (B.S.'13) speaks about her successful path from LAU to one of the most prestigious universities in the world.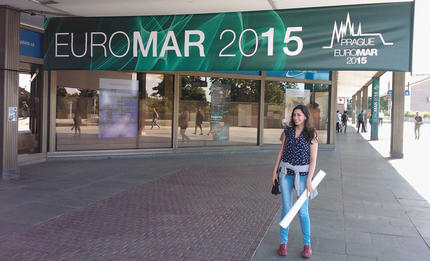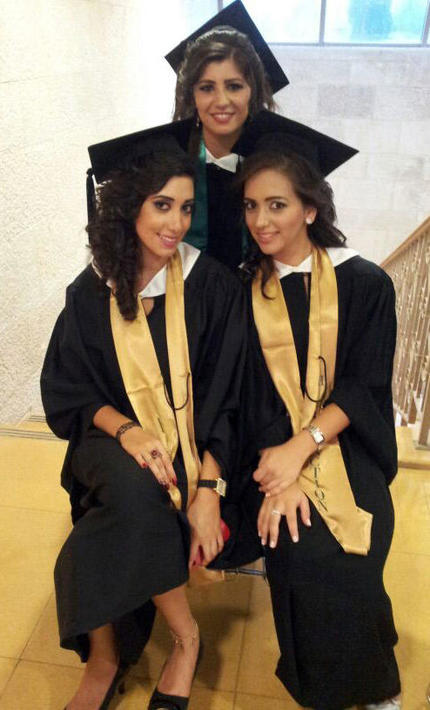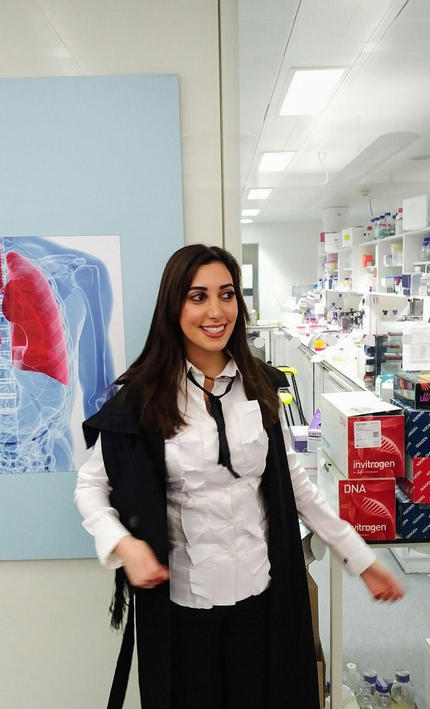 "Growing up, I always wanted to be an astronaut," says LAU alumna Martine Abboud. "Unfortunately, when I was fourteen, my grandfather was diagnosed with cancer, and I knew then that I had to become a research scientist." But there was more: "Since childhood, I dreamed of studying at Oxford," she shares.
That dream came true and today the 25-year-old Abboud is a postdoctoral researcher at the University of Oxford, working in two different areas of scientific inquiry. "One deals with developing new antibiotics and investigating the mechanisms that bacteria acquire to resist antimicrobial therapies," she explains. "The other deals with the hypoxic response, which is how our bodies compensate for lower or limited oxygen levels at high altitudes and in disease states." Understanding the hypoxic response is important for cancer research, she adds.
The research position at Oxford is the next stage on a journey that recently led Abboud to obtain her doctorate in chemical biology from the same university, during which she held a Sir Hans Krebs Memorial Award from the Biochemical Society, London. Recently, she "graduated with a thesis commendation, an honor given to less than five percent of all Oxford graduates." In recognition of the quality of her work, Abboud was elected a Junior Research Fellow at Oxford, a position she took up immediately following her graduation.
"This fellowship is really competitive and prestigious. It will allow me to pursue my research on metabolic mutant proteins involved in cancer and tuberculosis that share similarities," Abboud explains.
"My success today is, in part, due to my LAU education," she says.
Abboud completed a bachelor's degree in biology, minoring in chemistry. A full merit scholarship allowed her to study at LAU, an opportunity she transformed into academic honors, graduating with a President's Award for her high CGPA and leadership skills.
Abboud gives credit for her success both to the rigorous curriculum at LAU and the student-centered approach of the university. "The quality of the courses enabled me to be competitive at an international level," she says. "And my professors were very supportive and always willing to help"― as was the administration ― in her efforts to carry out graduate studies abroad.
Notably, while at LAU, Abboud took part in a research project on the carcinogenic risks posed by potato chips where she had a leading role. The study, which found among other things that people in Lebanon consume at least seven times the amount of carcinogenic substance through chips than is deemed healthy, was published in the Journal of Food Composition and Analysis.
"Martine is very systematic and a perfectionist," says Assistant Professor of Chemistry Robin Taleb who supervised the research study. "I am not surprised that she is so successful. Her level of intelligence and her hard work coupled with her professionalism and ethics have paid off," he says.
Throughout her studies at Oxford, Abboud went above and beyond the requirements of the Ph.D. program, publishing over a dozen of articles in leading journals and receiving multiple international prizes and awards (from both academia and the industry), among them an award from the American Protein Society in recognition of the outstanding promise she shows as a young researcher. While her current position at the British university requires her to remain abroad for the moment, she intends to return to Lebanon to found her own research group.
"After being to Oxford and learning novel approaches, I really feel the urge to contribute to my society and provide young scientists with similar opportunities," says Abboud. "Serving others is at the core of LAU's mission and it is something I deeply believe in."