From shrinks' couches to corporate chairs
Guest lecturer introduces "Transactional Analysis," a theory of self-fulfillment that began in the field of psychology and migrated to the workplace.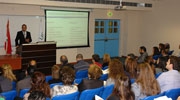 Dr. Hady Safa addressing the audience.
Click on the photo above for larger version.
The Alumni Relations Office hosted a lecture by Dr. Hady Safa, renowned motivational speaker, on Friday April 20 on the Beirut Campus.
Safa's lecture, entitled "Transactional Analysis," represents the third installment of LAU's "Keep Learning" 2011-2012 lecture series, organized by the Alumni Relations Office.
The concept of transactional analysis originally developed in the field of psychology, but has become a ubiquitous tool in management and communications. Neo-Freudian in its foundations, it emphasizes that life patterns begin in childhood; aims to intervene and modify these patterns to release the full potential of adults. Safa stressed that transactional analysis is a communications theory "pragmatic in its approach," positing that the self arises through interactions with others.
Hady, who holds a Ph.D. in talent management and is the founder of Standard Human Resources Consultancy, has given guest lectures in a wide range of institutional settings, from multinational corporations to universities to the civil service sector.
Alumni, students, and faculty members in attendance were intrigued by Safa's explanations of the "games people play" in their interactions with others. Safa also delved into the "Parent-adult-child" model for understanding personal growth and change in the "ego state," which is foundational to transactional analysis as originally developed in the 1950s by the Canadian-born psychiatrist Eric Berne.
Safa's entertaining anecdotes emphasized how life experience can help us to face the realities of the workplace and to "achieve our dreams." Safa acknowledged, however, that at times we must "take a step back and recognize we are not always in control of our situation."
The crowd was clearly charmed by the lighthearted approach to a serious subject. Deftly fielding audience questions, Safa had participants questioning their own interactions with others, reflecting on the "games" they themselves play in the pursuit of professional and personal fulfillment.
Safa emphasized that if we don't "take the clutter out of our lives, we won't get new things in our lives." This notion in particular resonated with Alia Hmeidan, an 1988 LAU graduate in English, who described the lecture afterwards as "profoundly impressive," praising Safa's understanding of human relations.
"Everything in life is a pleasure," said Safa by way of closure. "It is just a matter of how you see it."
Pleased by the high turnout, Executive Director of Alumni Relations Abdallah Al Khal described LAU alumni as distinguished by their "eagerness to learn and continue their education." The next lecture in the "Keep Learning" series is scheduled for June 1st.