From students to authors: Education majors display children's books
Students in LAU's Department of Education hold an exhibition as part of their Children's Literature course.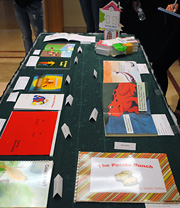 Children's books produced by LAU education students on display.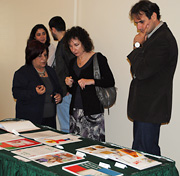 Children's Literature course instructor Anita Nassar (left) explains the concept of the project to Dr. Elise Salem, LAU vice president for Student Development and Enrollment Management, and Dr. Ramzi Haraty, associate professor of computer science.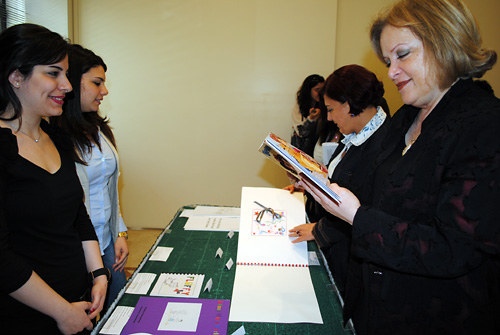 Rana Al-Houshaimi (left), a third-year education major, looks on as Dr. Mona Nabhani, LAU associate professor of education, checks her book.
Click on any photo above to view all three images.
Bright, colorful children's books lined the tables in Irwin Hall's Faculty Lounge on March 30 as part of an exhibit put on by LAU students taking the Children's Literature course at the Department of Education.
The 27 students were tasked with producing their own children's books as part of their final grade.
"In class, the students learn how to evaluate children's books, in terms of themes, values and target age group, for example," says course instructor Anita Nassar. "I asked them to put what they've learned into practice, and I'm really impressed by the results," she adds.
Each book on display was age-specific and related to a certain theme such as science, physical challenges, friendship and gender.
Rana Al-Houshaimi, 21, a third-year student specializing in early childhood education, presented her book, Tom Traveling for the First Time, a story about a little boy who is about to take his first trip on an airplane. Each page contains a lesson on what he can expect while flying.
"I was inspired to choose the transportation theme because of my five-year-old brother Hadi, who recently flew on a plane for the first time," Al-Houshaimi explains. "The book relates to the fears he had and the questions he asked, like 'What will I do for four hours?' 'Are there toys on the plane?' 'What is take-off?'"
Jevin Kasem, 22, a second-year education major with a minor in psychology, displayed The Magic Pen, the book she authored and illustrated about a little girl who has a birthday party and gets a special gift.

"She falls in love with a magic pen over all her other expensive gifts because it opens up new worlds for her," Kasem says.
"I chose the 'special event' theme because my nephews love birthdays. It's a simple story with big, attractive illustrations that have raised parts that kids can touch."
Students were graded on the creativity of their ideas, the flow of the story, the incorporation of themes and values, and the age-appropriateness of vocabulary.
"What's so beautiful about this project is that each person puts oneself in the assignment," says Nassar, who is also the assistant director of LAU's Institute for Women's Studies in the Arab World. "I could see each one of them in their books, almost right away."