From war to peace: LAU alumna shifts tone in her paintings
Ghada Jamal exhibited her latest works on abstract landscapes.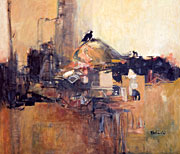 Traces and Remains: The first painting of the series exhibited in March.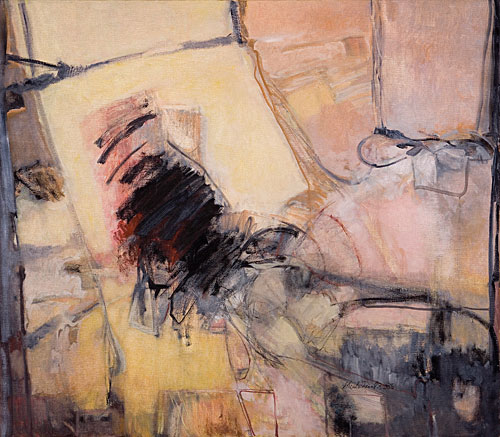 Jamal said this second canvas of the series, called The Earthquake, illustrated the fragile equilibrium of Beirut.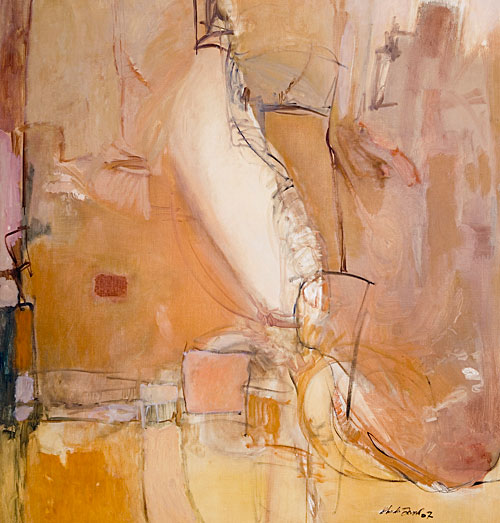 Oh, My Love: The fifth painting of the Traces and Remains series.

Click on any photo above to view all four images
The Lebanese war has influenced many of Ghada Jamal's paintings. But with her abstract landscape series Traces and Remains, exhibited last month in Agial Art Gallery, Beirut, the LAU graduate wanted to show that there is light and peace in the country.

Jamal started painting during the Lebanese civil war. "LAU [then called BUC] was such a home for me," she said. "I lived there. It was one of the safest places."

After graduating from BUC in 1985 with a B.S. in liberal studies, Jamal moved to the United States, where she pursued an M.A. in fine arts at California State University.

Having left a war-torn homeland behind, Jamal expressed her anger in her War Series with its three subsections: Lebanon Cityscape, Gulf War Series, and Thoughts About War. Her distress became grounded in big canvases, strong colors, and heavy paint.

With time, however, her "anger drained away to be replaced with dreamlike images of an earlier time, a youthful innocent Lebanon," according to her website.

In California, she created her Music Series, inspired by the use of ancient instruments, such as ney and oud, in classical Arabic music.

Jamal lived abroad for 14 years, but she said she always knew she would return.

"When I came back to Lebanon in 2002, my painting changed drastically," she said. "In 2005 a new era began in Lebanon. There were several tragedies, and I felt I had to find what keeps us together," she added.

She researched her theme for several months by reading many history and archeology books and going to museums.

Jamal summed up her ideas in her latest series that meant to capture the essence of Beirut, which lies beyond the memories of war and political strife, according to her.

Peace and balance do reside behind the chaotic face of Beirut, Jamal said. That's why all the paintings in Traces and Remains have light shades of ocher or orange.

"Traces and Remains is about how to live through tough times" and to transmit the lessons learned to future generations, Jamal said.

The award-winning artist has exhibited her works in England, France, Jordan, Lebanon, and the United States.