General Security officers get leadership training
Through their Outreach and Leadership Academy, LAU and the Hariri Foundation kick off a leadership training designed for officials from the public institution.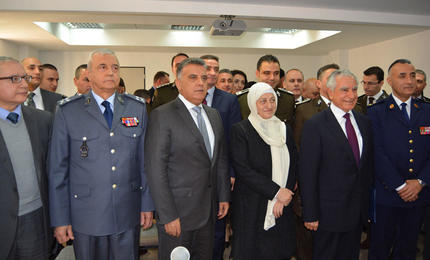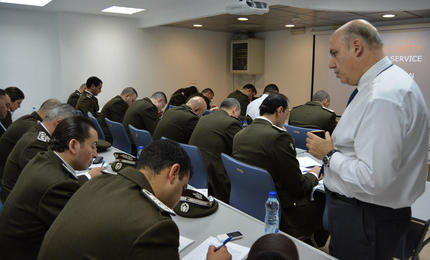 Thirty general security officers, men and women from different professional backgrounds, are taking part in the first Certified Leadership Program organized and implemented by LAU's Outreach and Civic Engagement.
The program was launched in a ceremony that gathered high-ranking officials at the Outreach and Leadership Academy (OLA) – Solidere, which was inaugurated last November by LAU and the Hariri Foundation for Sustainable Human Development (HFSHD).
Referring to it as "a wise partnership", Director General of the General Security Major-General Abbas Ibrahim declared that the training program is an important milestone in the development and reform process the institution has been undergoing. "The highest investment we can make in building Lebanon … is in its human capital," he said.
The training, divided in three phases, consists of a series of workshops on emotional intelligence, creative conflict resolution and negotiation skills among others, and will conclude with an individual developmental plan. The program also includes a workshop at the LAU New York Academic Center.
"It is a sophisticated and complex approach," explained Assistant Vice President for Outreach and Civic Engagement Elie Samia. "We are training the elite, adapting the last part of the program to each individual who will in turn become a trainer; our trainees are ambassadors," he added.
Using state-of-the-art technologies and programs, coupled with continuing education and capacity building, is fundamental to the progress and development of modern state institutions, said M.P. Bahia Hariri, who is also the head of the Hariri Foundation. "We are here to assert the importance of the collaboration between academic institutions and public administrations … with the ultimate goal to strengthen the trust between public service and the people," she added.
For LAU President Joseph G. Jabbra, this program is at the heart of LAU's mission to serve society. "It all falls under the motto of educating and empowering society as well as engaging society," he affirmed. "We need to engage each other in our commitment to Lebanon. No one should stay outside that engagement. We must come together to make sure that this country will never again be at risk," he said, addressing the audience.
Jabbra's words resonated well with trainee First Lieutenant Yara Abou Jaoude, head of the pharmacies department at General Security. "I really see great value in this training. Part of one's leadership skills is innate, the other is acquired and there is no better way to acquire those skills than the one offered here, especially since it [the program] is tailor-made."
In fact, Abou Jaoude is no stranger to OCE's approach and methodology. An LAU alumna―having graduated in 2010 with a B.S. in Pharmacy―she had the opportunity to attend one of Samia's workshops during her years at her alma mater. "I am very excited about what comes next. I know for a fact that I will learn a lot."