Getting back to their roots: Alumni reconnect during reunion week
Hundreds of alumni from all classes return to their alma mater for the 2011 Homecoming and Reunions week.
In pictures —
"I always wanted to rediscover what I have missed during my time away from Lebanon," says Robert Shafie, who graduated from LAU in 1984 with a master's in business administration, and resides in Boston, United States.

"To be in touch with my old school and attend the reunion in Beirut has been a wish of mine, and this was a great opportunity for me to meet with former classmates and faculty," Shafie says.
Sentiments like Shafie's could be heard throughout the week of the 2011 Alumni Homecoming and Reunions, as hundreds of alumni returned to both campuses to revisit their pasts and share their current lives with old and new friends.
Held from July 13-17, the five-day extravaganza included an alumni dinner, all-class reunions on both campuses, a homecoming brunch, and a trip to Ehden Village in the northern mountains.
"Don't forget that this institution comes from humble origins," LAU President Dr. Joseph G. Jabbra said during the alumni dinner on July 13. "Now, thanks to you and all those who believed in LAU, we have two major campuses and over 8,000 students."
Bank of Beirut supported the week's events, as it has in previous years.

Alumni dinner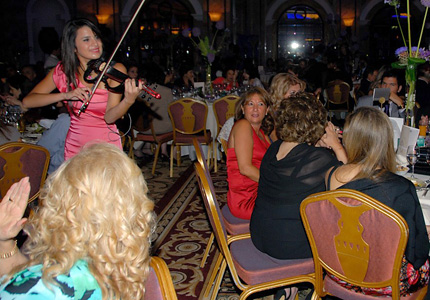 The week began with an alumni dinner held at the Phoenicia InterContinental Hotel in Beirut. LAU board members, faculty and staff gathered with alumni to enjoy live entertainment, acknowledge the work of the 32 alumni chapters worldwide, and present two alumni with special awards.
Here, Lebanese violinist Vanessa Nassar entertains the attendees.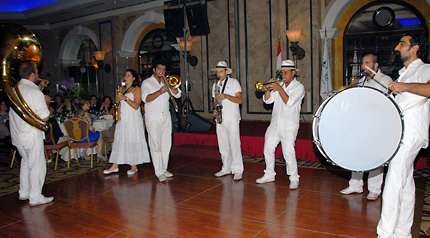 The Underground Fiesta Band got the crowd ready to dance during the alumni dinner.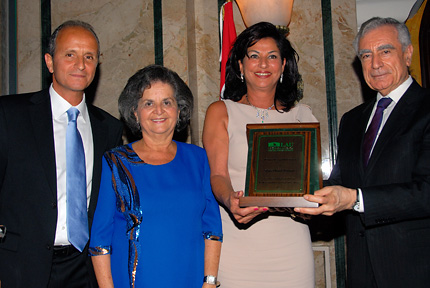 At the alumni dinner, Rima Daniel Hourani ('70), 2nd from right, received the Alumni Recognition Award from Abdallah Al Khal, director of the Alumni Relations Office; Leila Saleeby Dagher, president of the Alumni Association Board; and President Jabbra. The annual award goes to an alum who has made outstanding contributions to LAU and the community.
"I am honored by this recognition," says Hourani. "I believe strongly in education and that is why we are committed to LAU."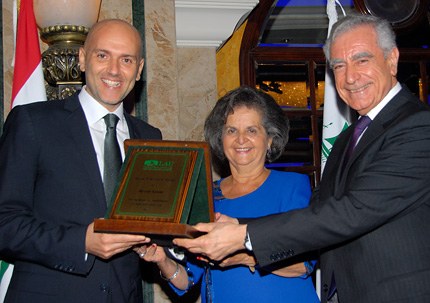 From left: LAU alum and popular television personality Ricardo Karam ('96) receives the Alumni Achievement Award from Dagher and Jabbra at the dinner. The award is given to an alum who has had significant accomplishments in his or her professional life.
"My dream was to make a difference, and I have tried to do so," says Karam.

All-class reunion (Beirut)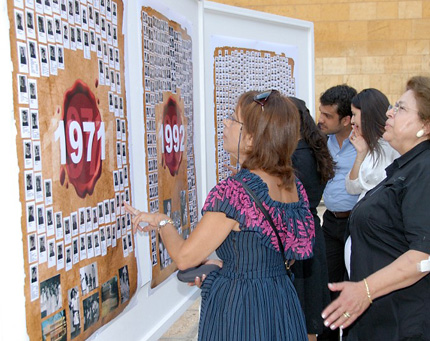 At all-class reunions on July 14 and 15 at the Byblos and Beirut campuses, respectively, different generations of alumni mingled with former professors, LAU officials, and each other.
Attendees browsed through yearbook-style posters from different graduation years to find themselves and old classmates.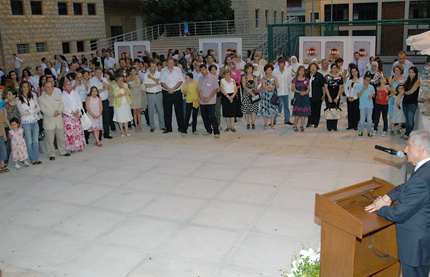 Jabbra addressed a large assembly of alumni at the all-class reunion at LAU Beirut. He welcomed them back to a place that serves as a "home away from home."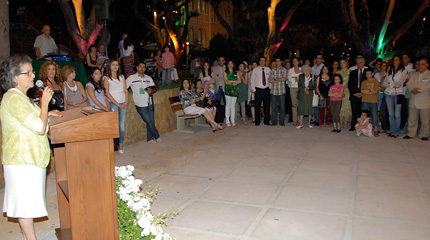 Dagher greeted the crowd of alumni and their families outside the Safadi Fine Arts Building.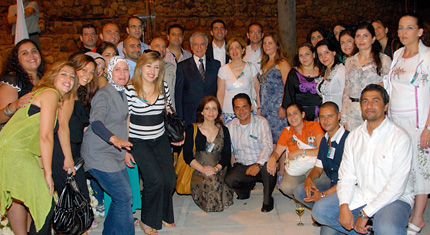 Alumni paused from socializing to take group photos with President Jabbra during the Beirut-campus reunion.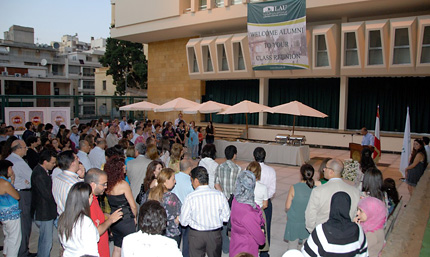 Al Khal welcomed first-time and seasoned reunion-goers.
"The numbers attending these annual events have increased considerably from previous years," he says.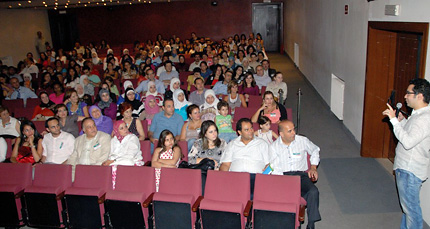 At the end of both the Byblos and Beirut reunions, alumni were treated to a screening of the award-winning documentary Teta Alf Marra (Grandmother, 1,000 times), written and directed by LAU alumnus Mahmoud Kaabour (shown right at LAU Beirut's Irwin Theatre).

All-class reunion (Byblos)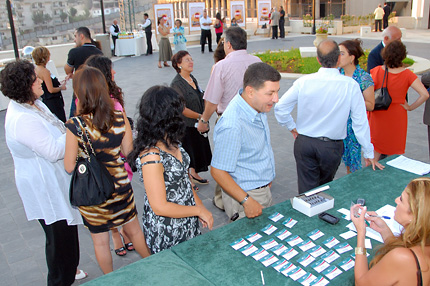 LAU Byblos alumni gathered on July 14 to catch up with old friends, and make new ones.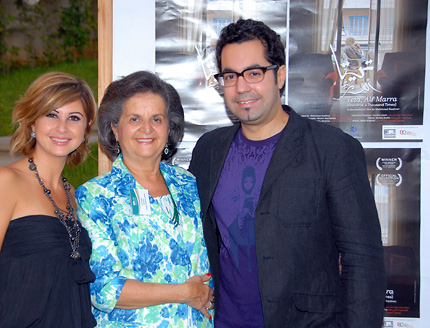 Ghada Majed, assistant director of the Alumni Relations Office; Dagher; and LAU alumnus and film director Kaabour, in front of posters for his internationally acclaimed film Teta Alf Marra at the Byblos reunion.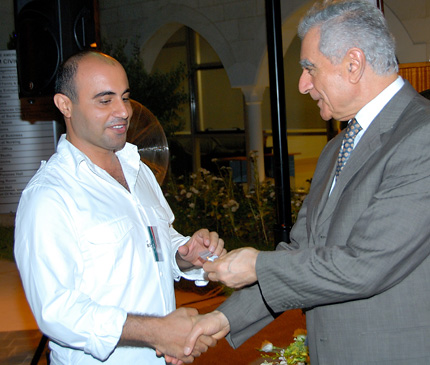 At the all-class reunions on both campuses, jubilee pins were distributed to the classes of '06, '01, '96, '91, '86, '81, '76, '71, '66 and '61.
Here, Jabbra hands out a pin to an LAU Byblos alumnus.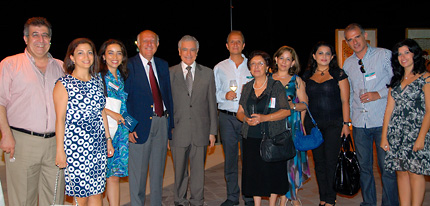 Former LAU President Dr. Riyad F. Nassar (4th from left) with Jabbra, Al Khal and a group of alumni who attended the Byblos-campus reunion.

All-class homecoming brunch and trip


During the all-class homecoming brunch held on July 16 at LAU Beirut's courtyard, generations of alumni and their families enjoyed a relaxed morning outdoors with university officers and staff.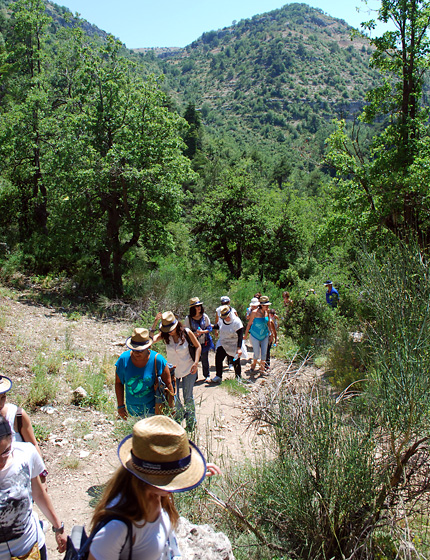 Alumni during a hike, part of the July 17 all-class trip to Ehden.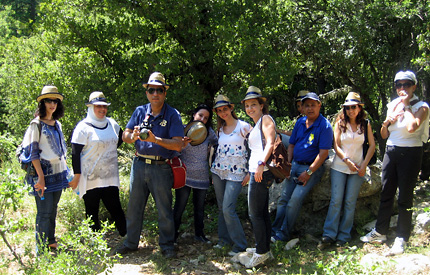 Alumni stop to take a group photo after a short hike near Ehden Village.