Girl rising
IWSAW and CLH celebrate International Day of the Girl and highlight the plight of young teens through the movie Girl Rising.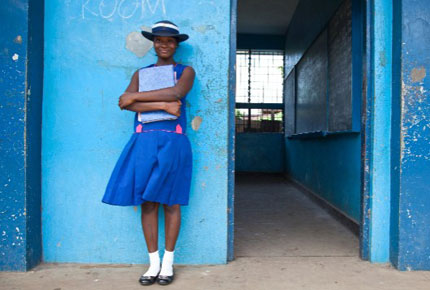 Marking International Day of the Girl, the LAU Center for Lebanese Heritage (CLH) and the Institute for Women's Studies in the Arab World (IWSAW) joined forces to organize the screening of Richard Robin's internationally acclaimed documentary, Girl Rising, on October 18.
More than simply a film, Girl Rising is a global movement for girls' education that attests to the belief of powerful storytelling creating change. The movie skillfully tells the real-life stories of nine young girls from underprivileged parts of the world, who have fallen prey to different ills including the lack of education, arranged marriages or men with wandering hand problems, among others.
"[This movie] is a consciousness-raising tool that addresses human rights violations against the girl child. It highlights the importance of exposing the gender-based violations girls are suffering from and the culturally specific barriers that hinder girls from acquiring an education," said Myriam Sfeir, managing editor of IWSAW's Al-Raida journal.
"This must be the first time I look at those issues from an international perspective," said Geraldine Gassam, press attachée at the U.S. Embassy to Lebanon, who attended the event. "I have always known those tragedies existed, but I had never seen a depiction so effective, catered to a global audience," she added.
The testimonies, although sometimes heartbreaking, are all imbued with a resolute hope for a better life and a brighter future.
"This is the 21st century and it is about time young girls are given an opportunity to think outside of the box," said Saja Al-Yacoub, a TechGirls alumna. "It is unacceptable that young ladies are still treated in a humiliating way and regarded to be less powerful than men. Who said we can't be presidents and leaders?"
Featuring voice performances by A-list Hollywood actors, the film introduces us to Yasmin, a 13-year-old Egyptian girl, who was raped one night when she went out to buy juice. Through the power of imagination, Yasmin managed to conquer her fear and refuse to allow the stigma associated with rape to control her life.
Azmera, a 14-year-old Ethiopian girl, wanted to live the life she desired. With the help of her brother, she championed her cause and stood up against early marriage. "Every time you open up a book, you continue your journey upwards… you rise," she told her mother one day.
"Girl Rising draws attention to pressing issues through real-life examples, which makes the impact all the more powerful," said Ramy Shukr, a psychology and biology student at LAU. Shukr is a volunteer with the Migrant Workers Task Force and said many of the female migrant workers he has met were denied education by their families.
Imagination and ambition can, at times, run free in very unusual places: poor, dilapidated neighborhoods, for example. "Now there's nothing that can stop me. Nothing in the world. Nothing in the universe," said Mariama, a girl from war-torn Sierra Leone, who shared her inspirational story on the silver screen.
As Sfeir succinctly put it, "we hope to have shed the light on what is happening to the girl child all over the world. We want to encourage other NGOs and international organizations to screen the film and contribute to the Girl Rising Fund to educate girls in third world countries."