Giving all women a voice
On the occasion of International Women's Day, LAU students invite migrant domestic workers to recount their hardships and voice their demands for a better future.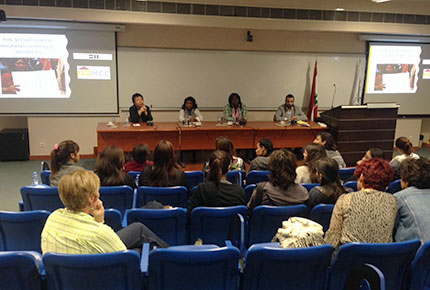 When Rahel Zegeye arrived in Lebanon, she did not expect to spiral into a cycle of psychological abuse. Now, after 15 years in the country, she directs plays denouncing the harrowing conditions of migrant workers and provides support to other Ethiopians in jeopardy.
Zegeye was one of the panelists invited to attend the discussion held by LAU's Intersectional Feminist Club, in collaboration with the Social Work Club, on March 7. "When we think about International Women's Day what comes to mind are white upper-class women, but this celebration was originally born in appreciation of the working class," says student Sarah Kaddoura, head of the feminist club. "LAU is a privileged platform and we should make it available to those who deserve it."
The panel discussion was opened by Ramy Shukr, general coordinator of the Migrant Community Center (MCC) – one of the establishments that have sprung up in recent years to offer domestic workers a safe place for activities and interaction.
According to Shukr, the key to improving the lives of domestic workers is abolishing the sponsorship (kafala) system, under which every woman is bound to one employer. "They either stay with the family that sponsored them to come to Lebanon, or they are sent back to their home country," says Shukr. "They have no power to change their employer if mistreated and, at the same time, there is no monitoring system that ensures their living conditions are appropriate."
Although a group of women last year formed the first Union of Domestic Workers in Lebanon to seek protection under the country's labor laws, this entity was never legally recognized by the Lebanese state. "It must be understood that domestic work is normal work," says Rose Mahi, a migrant worker from Cameroon and one of the founding members of the Union. "We take care of your children and your elders, we give them the love that we cannot give our relatives back home, and in return we are met with hatred and discrimination."
Lebanon has ratified major human rights conventions, including the International Convention on the Elimination of all Forms of Discrimination, but this does not prevent migrant workers from suffering blatant forms of abuse. "What is the purpose of international conventions if there is no implementation?" asks Gemma Justo, a Filipina community leader and human rights activist who also took part in founding the Union. According to Justo, the priority is to regulate wage and working hours, in order to align them with international standards.
As the discussion came to an end, the panelists thanked the participating LAU students for their presence and invited them to mobilize to end this injustice. "Please stand by us," says Mahi, "if you start treating migrant workers with dignity, you will truly be a generation of change."
This article is part of a series published on the occasion of International Women's Day.