Giving talent a chance
Latest donation from Midis Group establishes an annual scholarship at LAU for business, engineering and arts and sciences students.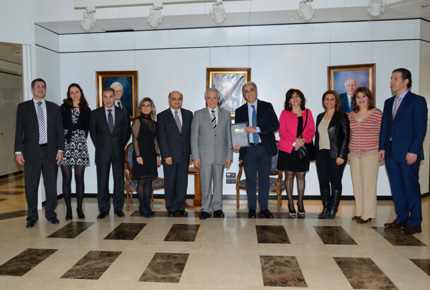 Midis Group this week established a generous scholarship at LAU to assist needy and deserving students from the School of Engineering, School of Arts and Sciences or the School of Business.
A representative from the firm was on the Beirut campus on April 2 to formally announce the Midis Group Annual Scholarship grant, which will also enable qualified students to work at the company upon graduation. To prepare them for the job market, scholarship recipients also have the opportunity to undertake two-month internships at one of Midis Group's subsidiaries or at its sister company Holding ITG.
Midis Group is an international organization with over 150 companies and more than 4,000 employees across the emerging markets of the Middle East, Europe and Africa. The group provides ICT services, distribution, system integration, and software and hardware products along with data center consultancy, infrastructure and standby power solutions. The group additionally oversees a portfolio of businesses devoted to selling and servicing commercial office equipment, information and telecommunications systems and software.
At a ceremony to mark the occasion, LAU President Joseph G. Jabbra was presented with a check for Midis Group's first donation towards the fund, saying it was a "great pleasure and honor" to once again be partnering with the university. Midis has made several sizeable donations to LAU in the past.
"Please consider our contribution to your financial aid program as a token of our trust in the quality of education that LAU provides to the youth of our country. It is also an indication of our commitment to provide qualified graduates with opportunities to develop their careers within our group," Midis Group representative said. LAU's leadership "can only be a motivating factor for the business community to play an active role and support LAU in providing quality education to our youth," he added.
For Jabbra, Midis Group has allowed scholarship recipients to dream of a better future for their communities. "I always say that the best life is the gift of giving, not only of money but of oneself. Since I've known you, I know that you embody that gift, that commitment to give and to help. We're so lucky to have you as a friend of LAU."