Graphic Design Student Exhibition held in collaboration with Leo Burnett
The School of Architecture and Design holds its annual exhibition in the presence of Honorary Chairman and Adviser of Leo Burnett S.A.'s operations in Beirut Farid Chehab.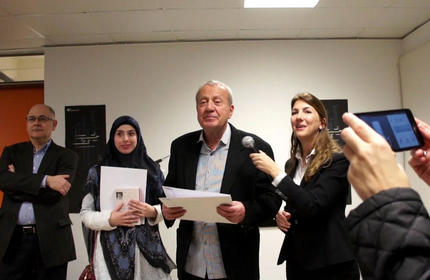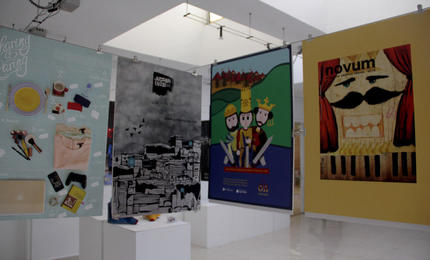 More than one hundred students, faculty and staff gathered in the Sheikh Zayed Exhibition Hall last week to celebrate the opening of the annual Graphic Design Student Exhibition. Under the title Stir, it featured 21 capstone projects created by seniors in the graphic design program, work that represents a culmination of their educational journey at LAU.
Farid Chehab, honorary chairman and adviser at Leo Burnett S.A.'s operations in Beirut, presented Certificate of Excellence Awards to five graduating design students who demonstrated particularly outstanding work throughout their studies. The students included Shadah Fadlallah, Rami Rikka, Mario Abou Sleiman, India Arida, and Cherine Karout. Of the five, Arida and Karout — along with fellow student Nadia Khabbaz — had developed their final projects within the framework of "Adopt a Creative," a joint endeavor between the Department of Art and Design and Leo Burnett, wherein the advertising agency's creative directors supervised the participating students' capstone work.
Drawing on his many years of experience in the industry, Chehab urged the graduating students to keep learning throughout their entire careers, as new technologies are transforming the world of design: "The world is in reinvention," he declared. "Even now, for example, new technologies are permitting us to create paintings that are themselves sensors…very soon, even the ink itself that you are using in design will become a tool to connect with your mobile phone."
According to Yasmine Taan, associate professor and chair of the Department of Art and Design in Beirut, the projects included for display in the exhibition were selected based on faculty assessments of quality combined with "recommendations of an external jury that included designers and people related to the creative industries, including representatives of Leo Burnett." The stringent selection process reflects the department's desire to raise the bar: "We want to have students graduating who can compete with international industries," she added.
"This event is a celebration of our graduating class, where the students have the opportunity to showcase their accomplishments, their capstone projects and receive recognition for all their hard work," said Melissa Plourde Khoury, associate chair of the Department of Art and Design, Byblos.
Greeting the audience on behalf of LAU President Joseph G. Jabbra, the dean of the School of Architecture and Design Elie Haddad warmly acknowledged the commitment of the department's faculty and staff, thanking them for "creating a distinct kind of culture" that attracts young artists to choose it over similar programs in Lebanon.
Following the awards ceremony, the exhibition hall was opened to the attendees, who were able to enjoy works that mingled traditional ink and paper creations together with digital animations using the latest technologies.