Graphic design students raise awareness through "intervention" projects
A dozen third-year students use colorful tactics to promote various causes.
Twelve third-year graphic design students from LAU Byblos poured their hearts and souls into their "intervention" projects as part of a visual perception course taught last semester, with hopes of bringing attention to some pressing, and sometimes forgotten or ignored, issues in Lebanon.
Melissa Plourde Khoury, assistant professor of graphic design who teaches the course, asked students to choose issues they wanted to communicate to the larger public while considering what the visual perception would be of those who would view their projects.
"The students really wanted to explore how they, as graphic designers, can intervene in issues of interest to the public as a means to challenge, inspire and possibly provoke," says Plourde Khoury. "They used YouTube and Facebook as a means of exposing their projects to as wide an audience as possible. That sort of exposure made the students take the project very seriously," she adds.
Topics included the environment, the issue of Lebanese war prisoners, Lebanon's ongoing political tensions, and the need to unite and work together. Most projects were presented in Byblos, but some students also took theirs off-campus, to Hamra and Gemmayze.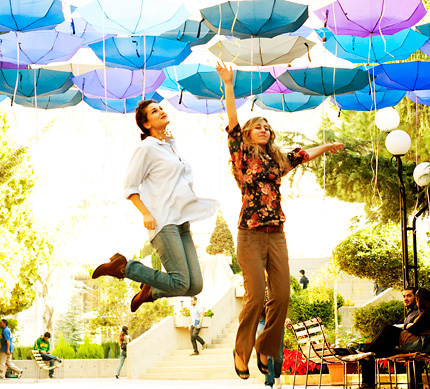 As a way of bringing attention to the environment, Sybil Layous (left) hung 100 brilliantly colored umbrellas upside down over a main walkway on the Byblos campus.
"I came up with the idea when it was almost December and it still wasn't raining. People kept saying, 'God did not send us rain this year,'" Layous says.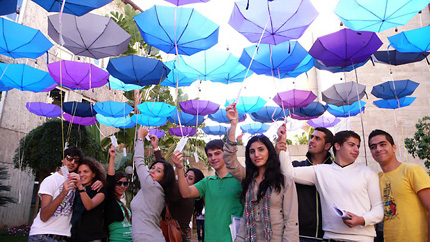 Layous hung the umbrellas upside down, she says, to symbolize the need to preserve water.
She also hung tags from each umbrella with the name of her project, "God Did Not Stop the Rain," and a link to its Facebook group.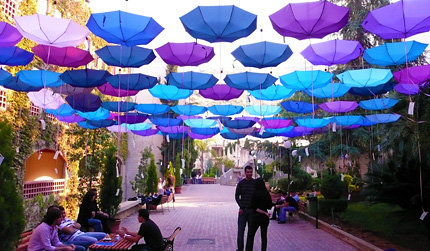 The installation was also a call for rain, Layous says. Three days after being hung, a storm swept through Lebanon and destroyed the project.
To learn more about the installation, visit Layous' blog.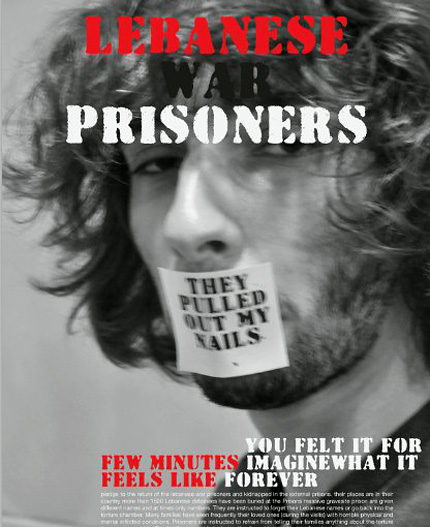 Patricia Farah followed a "guerrilla tactic" — a more intrusive approach — to highlight a cause.
To raise awareness about the thousands of Lebanese citizens abducted and held in Israeli and Syrian dungeons during the Lebanese Civil War and the decades of occupation, Farah and her group of friends arbitrarily kidnapped unsuspecting students, handcuffed them and subjected them to some mild torture. Farah then slapped stickers over their mouths describing the typical forms of torture Lebanese prisoners face.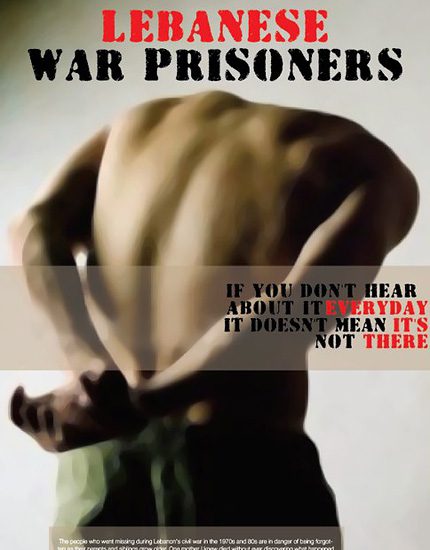 Farah says she wanted to target students in order to expose them to a war they often hear stories about, but which they never experienced.
"A lot of students came up to me afterwards and told me about a relative they had in a foreign prison," Farah says. "They all wish this problem could be solved."
Farah's tagline for the project was: "If you don't hear about it every day, it doesn't mean it's not there."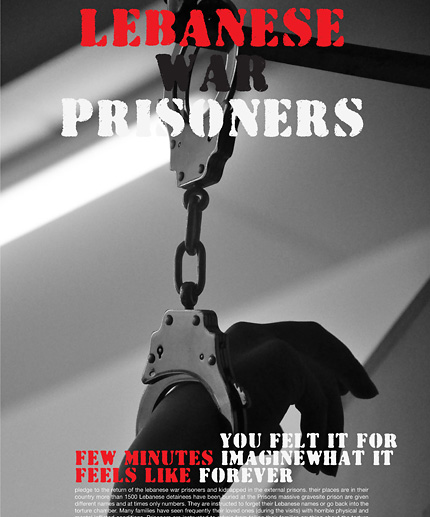 Farah created a video that documented her intervention and included an interview with an LAU staff member whose brother went missing during the war. The video can be found on YouTube.
Read more about Farah's project on her blog.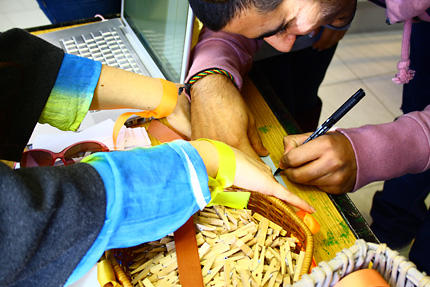 Myriam Melki's goal was to promote collaboration. She set up a stand at the Byblos cafeteria where students wrote on ribbons, one line each, to complete a story. They were only allowed to view the ribbon immediately preceding their own.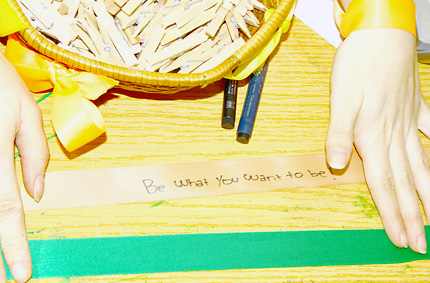 Melki called the project "No Matter What it Takes," which was the first and last line of the 100-line story.
"I wanted to do something collaborative because we are very self-absorbed; we don't think about others," Melki says. "It's nice to keep a piece of others with you, even if you don't know them. That's what's great about this collaborative project."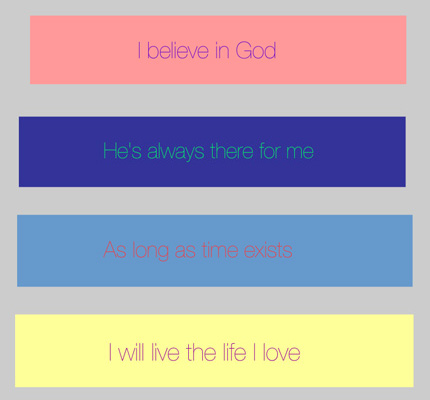 Melki recorded each student reading aloud the ribbon they had written on and strung them together in a single audio clip, which can be found on her blog.