Gasping for air
On the occasion of World No Tobacco Day, MarCom talks to Dr. Marie-Louise Coussa-Koniski, head of the Respiratory Disease Division at LAU Medical Center–Rizk Hospital and associate professor of medicine at LAU, about her research on chronic obstructive pulmonary disease.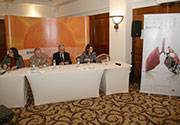 Dr. Coussa-Koniski (right) and her colleagues presenting the findings of their research.
Click on photo for larger version.
In the first-ever regional research on chronic obstructive pulmonary disease (COPD), head of the Respiratory Disease Division at LAU Medical Center–Rizk Hospital and Associate Professor of medicine at LAU Dr. Marie-Louise Coussa-Koniski and her colleagues found that more than 13 million people in the Middle East and Africa region suffer from the disease due to cigarette smoking.
COPD is an irreversible impairment of lung function that robs an individual of the ability to breathe properly.
The BREATHE study, which was sponsored by GlaxoSmithKline (GSK), accounts for interviews with more than 60,000 people in 11 countries. Coussa-Koniski and her team found that individuals over the age of 40 living in Lebanon are at serious risk.
Why does Lebanon have such a high prevalence of COPD?
We are the second most prevalent country after Syria. The occurrence of COPD in the region is 3.6 percent, in Lebanon, it is 5.3 percent, and the explanation for that is simple: We have the highest rates of smoking. We are the champions of smoking, and not only that, we're heavy smokers and we're mixed smokers, meaning tobacco and shisha. Another risk factor is pollution, such as biomass fuels that in Lebanon are often used for cooking and heating.
How can someone know they have COPD?
Symptoms include chronic coughing for three months or more, mucus and breathlessness. Doctors often misdiagnose it as asthma. Unfortunately, patients are arriving at severe rates without being diagnosed or treated, which is a problem that stems from lack of knowledge on behalf of both the public and medical professionals. The longer you leave COPD untreated, the more complications and risk of fatal endpoints. More worryingly, 65 percent of those diagnosed with COPD are still smoking on a regular basis.
What can be done to raise awareness about the disease?
On a national level, a number of things can be done to combat this dangerous disease, starting with tobacco control. Not just smoking bans, but also raising the price of cigarettes to deter smoking and enforcing quality controls on the tobacco that is sold in Lebanon. My team and I are starting by raising awareness through the medical community and through LAU.
Can COPD be cured or treated?
It cannot be cured, per se, because there are some forms of COPD with lung destruction like emphysema. In this case, you cannot reconstruct what you destroyed, but you have treatments that can improve the disease significantly. For milder cases, we use inhalers or antibiotics. When the disease is very advanced, the patient has to be put on a breathing machine and it becomes very difficult to treat. We don't want to reach that point. We want to catch these people at early stages.
For more information about the BREATHE study, click here.