Greening children's books
The Department of Natural Sciences hosts a panel discussion on "The Environment in Children's Literature."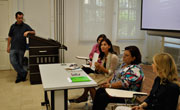 Panelists stressed the importance of green children literature in their education.
Click on photo above for larger version.
More than 50 participants attended a lecture on "The Environment in Children's Literature" that was hosted by the Department of Natural Sciences on August 30. The panel gave participants a comprehensive assessment of the importance of raising environmental awareness in children's literature.
"The aim is to engage students in the topic and expose them to different dimensions of environmental issues," explained Dr. Mohammad S. Al-Zein, professor of the Introduction to Environmental Science course and organizer of the event.
It is, according to Al-Zein, an opportunity to infuse creativity into the class through interactions with four individuals actively involved in environmental children's literature.
Among the panelists was Anita Nassar, assistant director of LAU's Institute for Women's Studies in the Arab World, who stressed the importance of this particular genre of literature with respect to children's education.
"The primary goal for environmental literacy is to develop citizens who are knowledgeable about the world around them and involved in working toward a more livable future," said Nassar.
"The earlier you instill these values the more powerful the message becomes," she continued.
A focal point of the panel was a discussion of the merits of subtle and understated messages instead of than dull, expository texts.
"I didn't even know I was writing environmental children's literature, until I was contacted by teachers telling me that they used my books to teach children about the importance of taking care of the environment," said Fatima Sharafeddine, an LAU alumna and renowned Arabic children's books writer.
The successful author revealed that the secret lies in subtly inducing emotions and ideas to children rather than bombarding them with explicit messages or lessons.
Writer and panelist Salpi Simitian reiterated this sentiment: "Creative non-fiction has the potential to influence the future." Simitian presented her children's book "The Little Cedar Tree" as a case study to illustrate the impact environmental literature may have on children.
The talk concluded with Dr. Salma N. Talhouk, faculty member of agricultural and food sciences at the American University of Beirut, who translated Dr. Seuss's The Lorax — the book warns of the pitfalls of unchecked corporate greed at the expense of the environment.
"The bulk of my conservation work occurs in Lebanon's villages and I found a lack of available resources to promote environmental literacy among the children in their own language," she said.
As a consequence, she dedicated over a year to the challenging task of translating the book into Arabic. "It's important to cross bridges and address children," she explained.

Inspired by the panelists, fourth-year architecture student Carla Najjar said, "It is nice to see people doing something to introduce environmental issues to children."
"Focusing on children is a smart strategy to take," said Marc Assaf, third-year banking and finance student, "After all, they are the future."