Guest speakers examine expectations for new U.S. president
Events on both LAU campuses discussed whether Obama can live up to high expectations for change, especially regarding U.S. policies in the Middle East.

Dr. Ramez Maluf, IMTR director, with the three speakers at the Beirut event.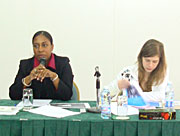 Bridgette Walker (right) and political science student Jana El Thoumi at the Byblos event.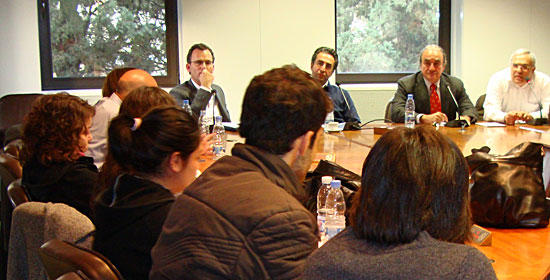 The speakers at the Beirut event welcome questions from the audience after their presentations.
Click on any photo above to view all three images
During the race for the White House, Barack Obama's main slogan was "change." Now that he has been sworn in as U.S. president, the world is looking for signs of transformation.

The implications of Obama's rise to power and possibilities for seeing expectations materialize were examined at a panel discussion on LAU's Beirut campus, and a lecture in Byblos last month.

Speaking at the Beirut event, Professor Hilal Khashan, chair of AUB's Department of Political Studies and Public Administration, said that expecting much change is political naivety on behalf of the general public, which in some cases has gone as far as calling Obama a "savior."

At the same event, Dr. Bassel Salloukh, assistant professor at LAU-Beirut's Social Sciences Department, agreed that expectations were inflated. He compared them to the well-known absurdist play Waiting for Godot, which is about not knowing what one is waiting for.

Salloukh said part of the problem was the media's focus on Obama as an individual, rather than the presidency and U.S. policies. According to him, this misleading tendency is also present in the Arab media, which is full of propaganda, as most news agencies are owned or funded by those in power.

In Byblos, U.S. Foreign Service Officer in Lebanon Bridgette Walker was invited to speak on "Transition to President Barack Obama's Administration and Focus on Diplomacy."

Walker said it was highly unlikely that policy would change radically. "Where we can expect to see change is in the day-to-day operations of how that policy is managed, and in the tactics of managing policies," she added.

Khashan said Arabs in particular should not expect much change, especially as long as they haven't agreed with one another first. He quoted Obama as saying, "The world is changing and the U.S. must change," and then asked, "Are Arabs changing?"

At the Beirut event, Dr. Paul Salem, director of Carnegie Middle East Center, said that overall Obama's election would not make a dramatic difference in the Middle East, but might bring some positive change.

According to him, the Israeli-Palestinian conflict would see the least progress. He said that the past 40 years had witnessed no change in U.S. foreign policies regarding oil and Israel, and there were no clear indications that this president would act differently.

Salem also said policies toward Iraq, Afghanistan and Pakistan would see no major shifts from those of the Bush administration.

The areas of possible change, and even progress, could be Iran and Syria, with which Obama had expressed the desire to have dialogue, Salem said.

According to him, what distinguishes Obama from his predecessor is that "he does have a different world view than Bush." But vision doesn't always translate into politics, Salem explained, because Obama "has to deal with the same problems" as he inherited wars and crises around the world by virtue of becoming president.

The Beirut event, entitled "Barack Obama: Arab Expectations from Election Day to Inauguration," was organized by the Institute for Media Training and Research the day after Obama's inauguration, while the Byblos lecture by the Political Science and International Affairs unit.