Gulf women empowered by LAU Young Women Leaders program
Women from Bahrain, KSA and Yemen trained by LAU and MEPI's YWL program are making a difference in their countries through community outreach initiatives.
With a commitment to developing women leaders in the Arab world, last summer the Young Women Leaders program at LAU, in partnership with the Middle East Partnership Initiative, trained over 20 women from various Gulf countries, to develop and promote their leadership skills through sessions held in collaboration with the university's institutes.
In order to execute the YWL program's mission, LAU established partnerships with four Gulf associations in Bahrain, KSA and Yemen to develop and implement programs that foster raising the status of women in the region and advancing their leadership capacities.
"LAU has been training women throughout countries in the Gulf and contributing to the empowerment of women regionwide, expanding the university's scope and preparing them for leadership positions," says Dr. Imad Salamey, director of the YWL program at LAU and assistant professor of political science and international affairs.
Community outreach in the Gulf
After last summer's initial training, LAU has followed closely, providing the women with the financial resources to execute specific projects in their respective countries.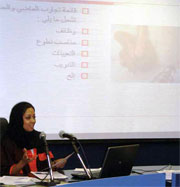 A trainer gives a presentation during a workshop organized in Jeddah by the YWL team of KSA, on how to start a small business and be aware of rights at the workplace.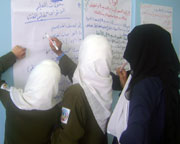 Students working in groups at a student council workshop organized in a school by the
YWL
's team in Yemen.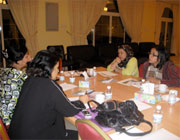 The
YWL
program's Bahrain team conducting meetings with stakeholders and policy-makers, to develop an advocacy campaign about women's rights to social security.
Salamey explains that at the end of the training, "LAU — supported by MEPI — provided the women with funds to carry on their small-scale activities in their countries — approximately $45,000 were given to these women."
He says the benefit extends to their respective communities, as seeing strong women taking leadership roles has the effect of "empowering other women in their communities too." He adds, "In each country the projects are suited the social environment of their communities."
In KSA, the YWL team identified a need to help women start small businesses and help them raise awareness of their labor rights. Salamey says the YWL team from Saudi Arabia went back and started holding workshops in Jeddah and Riyadh on how to start a small business and be aware of rights at the workplace. These activities were carried with the support of the Saudi Chamber of Commerce in Jeddah.
In Yemen, the YWL team focuses on girls' education, explains Salamey, due to the fact that the dropout rate is extremely high there. "Very few girls are allowed to go to school," he says, explaining why they wanted to start an awareness campaign to promote girls' education.
A meeting was held with various community stakeholders from Sanaa, Yemen. Various members of government also attended and agreed to support the YWL's efforts.
The outcome was that the Yemen team began to pilot Parent-Teacher Associations (PTAs) and student councils in two schools, both aimed at advocating for girls' education in the community — and encouraging parents with girls in schools to keep them there.
In Bahrain, the law is ambiguous about a woman's rights to dedicate her social security benefits to her children — currently they are directed to the husband. So the YWL team is working on advocating for women's rights to social security by advocating "to have the law clarified so as to provide women the rights to determine who her social benefits go to," explains Salamey.
The YWL team is working with community lawyers, stakeholders and members of parliament in Bahrain to develop an advocacy campaign in this regard. Eventually they will make recommendations and have them distributed to members of parliament.
"We are following up very closely, and mentoring and supporting them in order to make their activities successful," explains Salamey, adding: "Our program is particularly noteworthy in that it brings together different resources at LAU to develop leadership of women."