Happiness is the ultimate aim of leadership
More than 400 people attended the alumni lecture Rethinking Leadership led by renowned speaker Michael Kouly.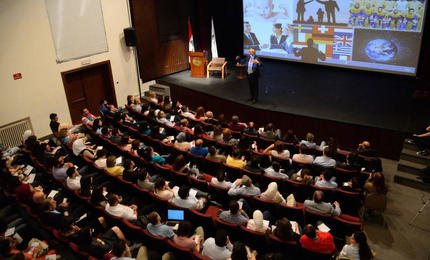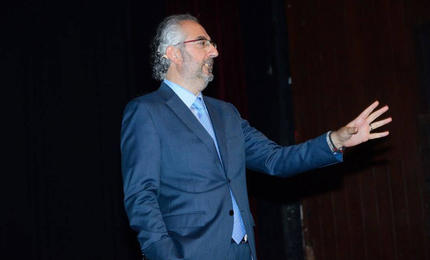 LAU's Irwin Auditorium was full on May 12, as alumni, students, faculty, and members of the larger community gathered to listen to President and CEO of Cambridge Institute for Global Leadership, Michael Kouly.
The global thought leader and professional speaker was the host of the Alumni Relations Office's Keep Learning lecture series, which consists of four to five lectures presented to LAU's alumni every year. The topics that are usually suggested by alumni themselves are chosen with care to ensure they are of interest to all majors and ages.
"Rethinking Leadership" was the title of the presentation that kept 400 people engrossed for over an hour and a half. "I have been thinking about leadership for the past 40 years of my life," Kouly told the audience, adding "leadership only has a meaning if it helps you survive and grow." All religions and philosophies, the speaker said, place such notions at their core.
However, life is not only about survival and growth, Kouly explained, but also about elevation and ultimately happiness. "What is the point of leadership if it's not to make you a better person, and those around you better people?" he asked the audience.
While the key to doing so is to mobilize, Kouly admitted this was hard to achieve. Sharing his findings over the years, Kouly developed a model that is based on five pillars: know yourself, know others, know the systems and entities you are evolving in, acknowledge authority, and acquire leadership skills. "This takes a lifetime," he said.
In fact, Kouly showed the audience how each one of them could be a leader in his/her own right. "Look at what you have in your hands, look at how many people you are carrying with you, how many lives you have touched, how many people you have blessed … You need to discover your purpose to find peace and joy, and then share it with other. Only then will you become a leader."
As the event came to a close, alumna Dana Nasrallah, who graduated last year, was mesmerized. "His way was unique. He captured people's attention," she said, adding that she was highly inspired by his talk.
Nasrallah makes it a point to attend most of the events and lectures organized by the Alumni Relations Office. "I find them of utmost value, and always do my best not to miss any of them," she said, "I like coming back to LAU."
For Abdallah El Khal, assistant vice president of Alumni Relations, this is precisely the purpose of the lecture series. "We want to bring our alumni back to campus, keep them connected to the university, and build a strong network to which they are proud to belong."