Harvard WMUN hones LAU students' diplomacy skills
Seventeen students from both LAU campuses once again demonstrated their diplomatic skills at the Harvard World Model United Nations 2008, held two weeks ago in Puebla, Mexico.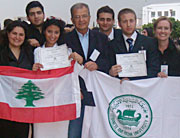 A ticker announces the successful bond transaction.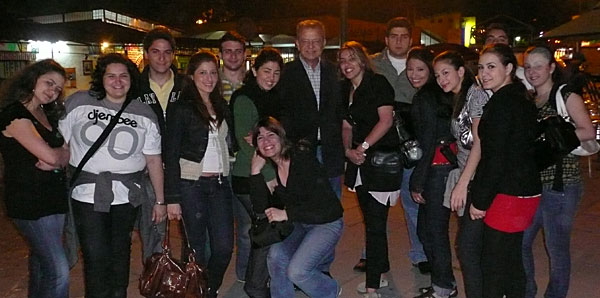 LAU President Joseph Jabbra delivers a speech during the reception at the lobby of LAU's Central Administration Offices in Beirut.

Click on any photo above to view all three images
Seventeen students from both LAU campuses once again demonstrated their diplomatic skills at the Harvard World Model United Nations 2008, held two weeks ago in Puebla, Mexico.
Along with approximately 1,500 university students from more than 40 countries, the LAU students participated in simulations of the UN committees' work and of important international affairs meetings. They learned, for example, how a draft resolution is put together or how often a delegate should speak in front of the entire committee to make his or her country's position felt.
Byblos students Maxim Baz and Carel Hayek brought home two diplomacy awards for their representation of Spain on ECLAC and UNHCR respectively. Unlike most award winners, who were graduate students, Baz and Hayek are undergraduates.
"But, more importantly, quite a few students seemed to come away from the experience with a greater sense of the possibilities for change through political processes," said Dr. Jennifer Skulte-Ouaiss, a professor in the Social Science Division, who accompanied the students as a faculty advisor with her colleague Dr. Walid Moubarak.
According to her, "LAU's participation in the Harvard WMUN, along with a growing number of extracurricular activities organized by the political science/international affairs program concerning conflict resolution and peace education, aims to bring experiential learning to our students, paving the way for life-long learning and … a commitment to working for positive change in their communities, Lebanon and the world."
Led by their faculty advisors, the students began working on developing their public speaking, writing, mediation, and negotiation skills in December.
Only in February did the students, most of whom major in political science or international affairs—with two coming from the economics program—learn which countries they would be representing and on which committees.
At that point, began the hard work of learning about the countries—in the case of LAU, Spain or Kuwait—and their positions on specific topics chosen by the Harvard WMUN student leaders.
This preparatory work paid off during the rigorous daily sessions in Puebla. The experience was so rewarding that, according to Dr. Skulte-Ouaiss, students who would still be eligible to participate next time were discussing in Mexico how they would better prepare for next year's conference.
Dr. Moubarak, who is the Assistant Dean of Arts and Sciences in Byblos and an Associate Professor in the Humanities and Social Science Division, said, "Our students are very good ambassadors… Everybody respects LAU now at these conventions, because they know we are serious; our students participate very effectively and win awards."
The students also engaged in social activities, where individuals and groups from all over the world got to know about one another's cultures. Some of these activities included a Mexican fiesta and "Aztec Night" with live music and folk dancing as well as a "Cabaret Night," at which students performed their countries' native dances. As always, LAU students' performance of the "dabke" was a hit.
The Harvard WMUN is one of the oldest and most competitive UN simulation events, and it draws well-prepared students from many leading universities worldwide. Previous Harvard WMUN conferences have taken place in Geneva (2007), Beijing (2006), Edinburgh (2005) and Sharm El-Sheikh (2004) leading back to the first simulation in Miedzyzdroje in 1992. LAU has participated seven times, and organizes the Global Classrooms, a model UN program for high school students in Lebanon.
You can read a previous story, to learn more about
LAU'
s participation in the
2006 Harvard

WMUN
.