Harvard WMUN: LAU students score high in diplomacy
Students participating in the Harvard World Model United Nations 2006 conference came home from China with seven diplomacy awards, placing LAU among the event's top five universities.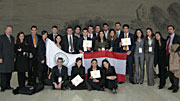 LAU student delegates flanked by Drs. Moubarak and Rowayheb.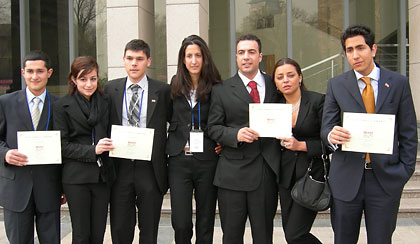 From left: Award winners Samer Rachid, Tatiana Hakim, Philip Nasr, Zeina Rizk, Michel Boulos, Rita Karkafi and Karim Bayoud.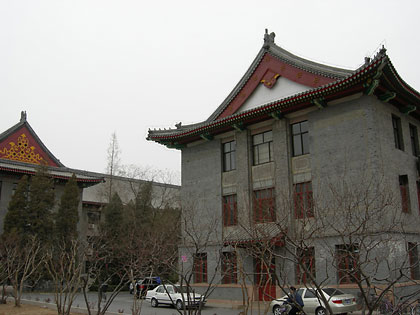 The old part of Peking University.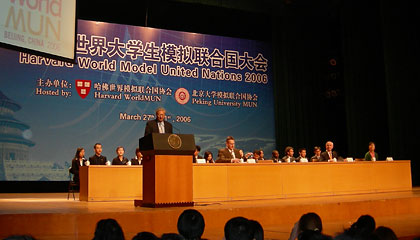 President of Peking University addressing the opening ceremony.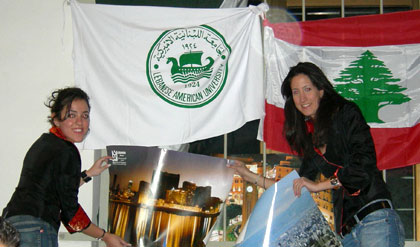 LAU students preparing Lebanese stand for global village night.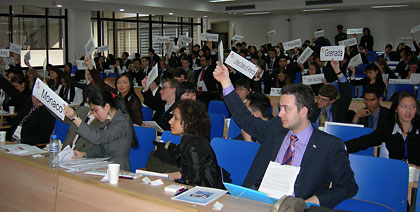 Students at work in one committee.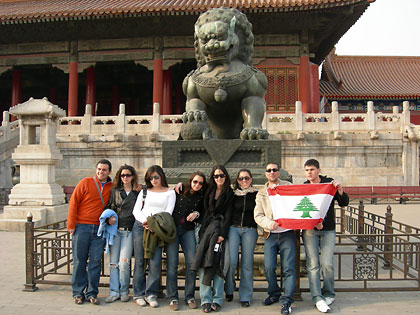 During a trip to the Forbidden City.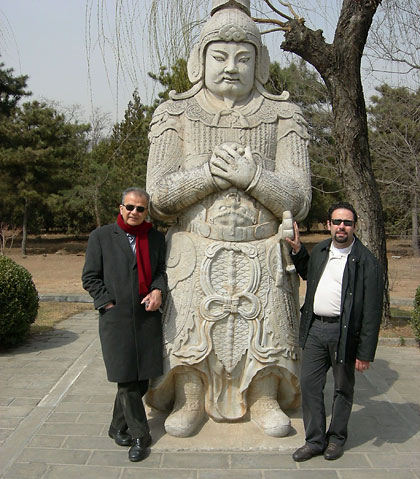 Drs. Moubarak and Rowayheb at Ming Tombs.

Click any image to view all 12 pictures.
Students participating in the Harvard World Model United Nations 2006 conference came home from China with seven diplomacy awards, placing LAU among the event's top five universities.
Students from Beirut and Byblos took part in the annual UN simulation that grouped 1,400 students from 37 countries at Peking University in Beijing in March.
"LAU delegates assumed leadership roles in all committees they participated in," said Dr. Walid Moubarak, the chairman of the Social Sciences and Education Division in Byblos. "They had a great impact on the flow of debates, on the working papers discussed and resolutions adopted," Dr. Moubarak said.
"To win awards, students have to be active, diplomatic and successful in suggesting resolutions that are adopted at the end of the conference," said Dr. Marwan Rowayheb, an assistant professor of political science who co-supervised the group with Dr. Moubarak.
Head student delegate Michael Comaty said self-confidence and insight into other countries and cultures, gained through interaction with such a diverse group of people, were the main benefits to participants.
"The awards we (won) are further proof of the competitiveness of our university and our program," said Comaty. "We gained so much respect through our active participation in committee work," he added.
Comaty, who is majoring in International Affairs, said the challenge lied in finding viable solutions to real issues. "We had to take into consideration the sovereignty of countries and international law. At the end of the day, we had to draft resolutions that were suitable to all countries," the 23-year-old said.
The 22 LAU students, most of them majoring in International Affairs, were the only Lebanese among 36 Middle Eastern participants.
Dr. Moubarak and Dr. Rowayheb made sure the group received thorough training on the diplomatic language of the UN and the rules and procedures of the conference, prior to the event.
LAU students were assigned to represent Kuwait, the United Arab Emirates and Gambia in nine committees, replicating the three countries' real-life UN participation. During the training phase, students in each committee prepared to debate two topics chosen by the secretariat.
"They researched the topics and countries they were assigned to in line with a study guide from Harvard," Dr. Rowayheb said.
A draft resolution was later issued by each committee with all resolutions put for voting at the end of the conference. Committees and debates were directed by senior Harvard students.
The five-day conference March 27–31, 2006 was the largest and most geographically diverse. It was hosted for the first time in Asia since the conference was first organized in 1992.
As a host, Peking University provided the conference with logistic support and organized social events in collaboration with Harvard.
Following a grand opening ceremony featuring acrobatics, folk dance and Kung Fu shows, a global village night displayed stands from all countries represented in the conference. LAU students put on display a variety of Lebanese delicacies, drawing numerous visitors.
On the sidelines of the conference, participants visited the Great Wall of China, the Forbidden City and Tiananmen Square. Students had a chance to learn more about the rich cultural and historical heritage of China and its people.
The World MUN concept was initiated by a group of students at Harvard University seeking to create a new forum bringing together fellow students with an active interest in global affairs.
The first World MUN conference was held in Miedzyzdroje, Poland in 1992. LAU first took part in the conference in 2000 in Istanbul, Turkey and has participated annually since then.