Hats off to 2017 USP graduates
USP officials, students, graduates and alumni come together in a celebratory reception at LAU Beirut.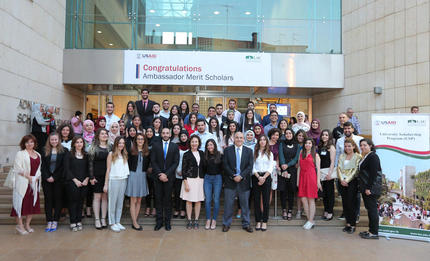 LAU honored the 69 graduates of its 2017 University Scholarship Program (USP) during a reception held at the university's Beirut campus.
Expressing his pride in the graduating class, program coordinator Elie Samia told the audience that, while striving for academic excellence was USP's motto, "It is not only about good grades and graduating with a high GPA. We aim to help our students develop, and a big part of this is building their character."
Samia, who is also assistant vice president of Outreach and Civic Engagement at LAU, went on to point out that "We educate the whole person, not just for Lebanon, but for the entire region … they become global citizens."
The program, which is funded by the United States Agency for International Development (USAID), provides undergraduate scholarships to promising public high-school students and technical school graduates from across Lebanon. While the beneficiaries stand out academically, they are formed to better serve the Lebanese economy, and cultivate civic mindedness in order to help others.
Since the fall of 2011, which saw the first intake of USP scholars at LAU, 400 students have entered the program. Including class of 2017, 215 have graduated with 68 percent of them scoring a GPA above 3.0, which is around 80 percent higher than the overall average GPA of LAU students.
Elise Salem, vice-president of Student Development and Enrollment Management, commended the students on behalf of LAU President Joseph G. Jabbra. "It takes a lot to be accepted into this program… We receive more than 1,000 applications each year but rigorous academic standards allow us to take a limited number of students," she said, adding that this was the most competitive program at the university.
USP students can major in several disciplines including business, engineering, computer science, nursing, social work, political science and international affairs, communication arts and graphic design, among others.
While it is mandatory for the scholars to engage in volunteer work and become administrative members of student clubs, many complete internships at world-renowned companies such as Ernst & Young, Dar Al-Handasah, Dubai Contracting Company, Middle East Airlines, UNDP and Khatib & Alami. With such hands-on experience under their belt, the students gain a competitive edge as they enter the job market or decide to pursue their studies.
Graduates Samira Abou Alfa, Safa Hamzeh and Mohammad Ibrahim are all recipients of Fulbright Scholarships. "I was reserved and shy when I started university, but now I am self-confident, and I graduated with the highest GPA in my class in Political Science and International Affairs," said Abou Alfa, who less than a month after graduation got a job with Mercy Corps.
Another graduate, Farah Abdullah, who credits USP for her successes and the new person she has become, currently gives public speaking and conflict resolution workshops, and works with more than five NGOs.
For the majority of USP students, the most memorable moment during their time at LAU was going back to their hometown, where each had a financial grant to complete a development project in the fields of health, environment, education and the like.
In an impromptu interaction among the participants, graduate Rayan Al Tulyani said: "USP and USAID planted a seed in each village for someone to lead in the right direction." Her father then stood up to tell the audience that he was, "proud because my child now has the weapon of education in her hands."
Assistant Vice President for Alumni Relations, Abdallah Al Khal, spoke of the importance of USP graduates keeping in contact with their alma mater. "There are currently 43 alumni chapters established by the university, and alumni volunteers scattered in Lebanon, the Middle East, North America, Europe, and Africa to look after you," he said. "And guess what, a chapter was established especially for you, USP alumni, as you enjoy a special affinity that many other alumni envy you for," he added.
As head of the USP Alumni Chapter that was launched earlier this year, Fidaa Fakih, congratulated the students and their parents on this special occasion. "We are now 200 graduates in the USP Alumni Chapter and 200 more will join in the coming years," he said. "Our mission is not just to create friendships, but also to give back to the USP program and the community that helped us."