Health students and their rites of passage
LAU sends its medical, pharmacy and nursing students out into the field, confident that they will become compassionate healers providing optimal care.
No entry into the medical and health field is complete without its different rites of passage. For LAU's medical students it was the Hooding and White Coat ceremonies that respectively took place on June 3rd on the Byblos campus and on June 27 at the affiliated LAU Medical Center–Rizk Hospital hospital.
Faculty, administration as well as family and friends proudly looked on as the students were hooded and recited the Hippocratic oath. "Our mission, your mission, is to transform health care in this country," Dean Youssef G. Comair told the graduating class of 2014. President Joseph G. Jabbra was keen to remind the graduating students of LAU's values as they head out into the medical field. "There is a reality out there that we need to be fully aware of — the exceptional achievements in technology have helped the medical profession so much. Yet, at the same time, your challenge is to make sure that technology, however excellent it is, does not rob you of your humanity."
Dr. Omar Abu Hamdan, from the graduating class of 2014 beamed as he found his way to his parents, who had come from the Chouf to attend. "It's a great moment, we worked seven hard years for it. This is our moment of pride, happiness, and of dreams come true."
From the pharmacy and nursing students — during the Pharm.D. hooding and nursing pinning ceremonies on July 1st— Jabbra asked that they never compromise who they are and what they stand for. Valedictorian Nisrine Haddad's speech focused on "optimal care" saying, "This is something that has been emphasized over and over again in our classes here and entails looking at each patient alone to give them the best possible treatment." True to her training the pharmacist continued, "When we seek optimal care, we cannot but be truly and faithfully caring of our patients to the extent of giving them what we would want to have if we were in their shoes."
Proud Dean Imad Btaiche reminded his graduates, "There is so much need for you and your professional competence and commitment, and for constructing bridges of trust toward a better future. SO step up to the challenges and let us synergize our efforts and partner in building the new generation of pharmacists."
As the Pharm.D. students were being hooded, the nursing students were also stepping up to be lauded just next door, at the Alice Ramez Chagoury School of Nursing's Recognition Ceremony.
Guest of honor Helen Samaha Nouwayhid, president of the Order of Nurses, congratulated the class of 2014, as well as LAU's School of Nursing, on having achieved the Commission on Collegiate Nursing Education's accreditation. She outlined the changes the profession has been witnessing over the years and how nursing is being repositioned in Lebanon. All the while, Dean Nancy Hoffart looked on proudly before distributing the President's Circle Award and Shaké Ketefian Award for high achieving students. "The Alice Ramez Chagoury School of Nursing will always be your home," she told the students. "May you have the energy, every day of your life, to share the light and the power that you have through your knowledge and may you enjoy the rich rewards that come from helping people in critical moments. In the years ahead, I will look forward to seeing you at alumni events and hearing about your accomplishments."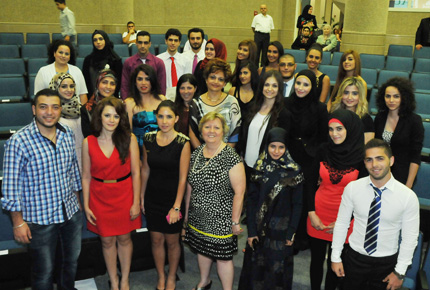 Hoffart presided over the Nightingale Pledge and delighted students and parents with a beautiful sing-a-long slide presentation, titled "Nursing is Life".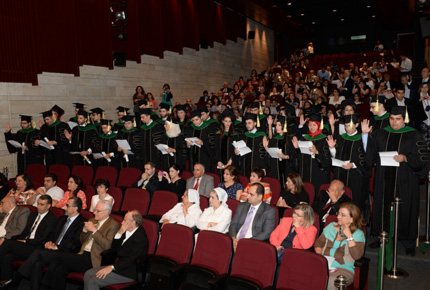 The medical students taking the Hippocratic oath.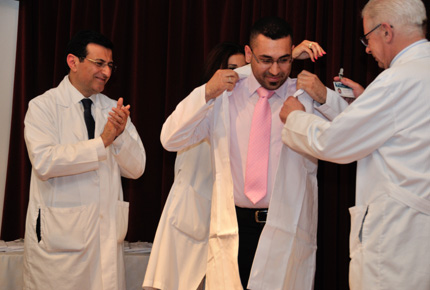 A medical student stands on the stage to put on his white coat, accompanied by faculty members.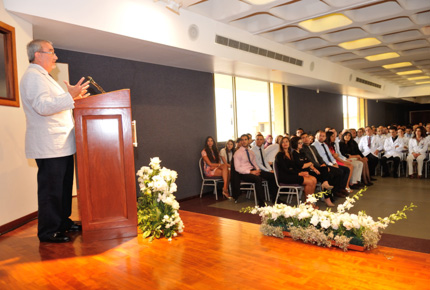 Guest speaker Dr. Issam Awad speaking about the philosophy of medicine, before the graduates received their white coats.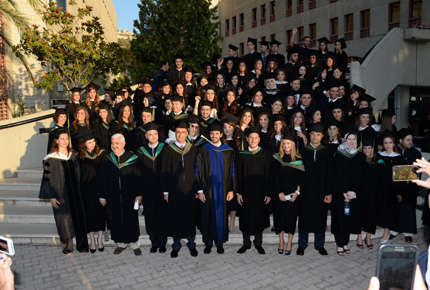 A traditional group shot of the Pharmacy students and faculty.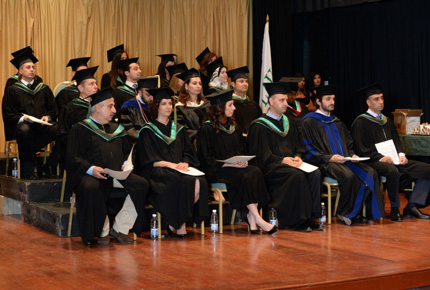 School of Pharmacy faculty during the hooding ceremony.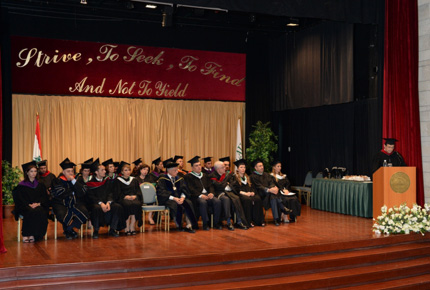 Dr. Comair speaking to the crowd during the School of Medicine hooding ceremony.