"Healthy mind, healthy body"
LAU's annual health awareness campaign features three presentations and a poster competition.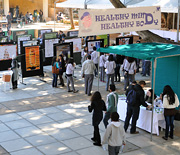 LAU's annual "Healthy Mind, Healthy Body" awareness campaign spanned over two days this year.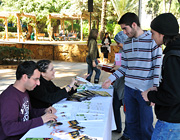 The event was co-organized by the Natural Sciences Department, the Student Development and Enrollment Management division, and the Hospitality Club.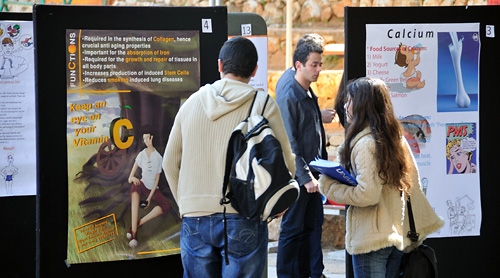 Students review posters before voting for their favorites.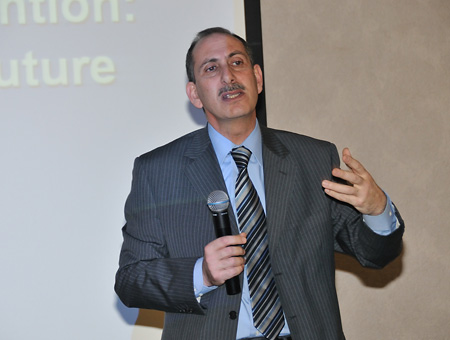 Dr. Wissam Ghandour, a faculty member in LAU's School of Arts and Sciences, giving a presentation on cervical cancer.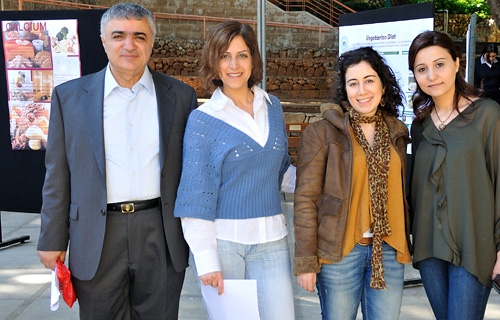 From left: Dr. Ahmad Kabbani, chair of LAU Beirut's Natural Sciences Department; Riman Jurdak, program coordinator at the Office of the Dean of Students at LAU Beirut; Helen Karam, instructor of nutrition; and Joceline Karkour, registered nurse at LAU Beirut.
Click on any photo above to view all five images.
LAU's yearly health awareness campaign at LAU Beirut, titled "Healthy Mind, Healthy Body," spanned over two days this year, combining three presentations with a poster competition on March 16 and 17.
For the first time, the event was organized through the collaborative efforts of the Student Development and Enrollment Management division, the Department of Natural Sciences, and LAU's Hospitality Club.
"It was a team effort," says Dr. Ahmad Kabbani, chair of the Natural Sciences Department at LAU Beirut and the mastermind behind the collaboration.
The event even drew some graphic design students who helped their friends studying natural sciences develop their posters.
"We emphasized teamwork," Kabbani adds. "It's very important that students learn about the interdisciplinary aspect."
Kabbani also notes that the event created an opportunity for interaction between students and their community, and allowed them to realize their potential to learn and engage outside the classroom.
A health booth was set up during the event, where Dr. Nancy Hoffart, dean of LAU's School of Nursing, measured students' blood pressure. Biology, pre-medical and nutrition students helped measure the body mass index of their peers visiting the booth.
During the event, over 50 posters were displayed outdoors that hit on a variety of health-related topics, including nutrition, cancer prevention, and substance use. Students voted for their favorites.

Spotlight on cervical cancer, HIV and travel safety
On the first day of the event, three LAU faculty members gave health-awareness presentations.
The first presentation focused on cervical cancer and was led by Dr. Wissam Ghandour, a part-time faculty member in LAU's School of Arts and Sciences who holds an M.D. in gynecology.
The causes of most types of cancers, Ghandour said, are unknown, despite the association of some habits, such as smoking, with the disease. But unlike other cancers, he revealed a direct link between the HPV virus and cervical cancer, and said that 99.9 percent of cervical cancer patients have HPV.
HPV is most commonly transmitted sexually. Mothers may also pass it on to their newborns.
Many people who are infected with HPV, Ghandour said, are unaware and may lead perfectly healthy lives, but are still in danger of transmitting it to others.
"If someone gets infected, there is a high chance that the virus can clear up on its own without any type of treatment if exposure happens only once," Ghandour said. "But if there is continuous exposure to the infection by having repeated sexual exposure to a person with HPV, that may lead into a pre-cancerous stage."
According to Ghandour, 80 percent of women in the United States will be exposed to the virus by the age of 50. The peak age for developing cervical cancer is between 35 and 55, he said.
"Every two minutes, a woman dies of cervical cancer somewhere in the world," he said. "Here in the Middle East, it's every hour."
Later in the day, Dr. Mona Haidar, a specialist in social medicine at LAU's School of Medicine, gave a lecture on the global HIV epidemic.
More than 97 percent of new HIV infections occur in underdeveloped countries, she said, adding that the groups most vulnerable to the virus are sex workers, drug users, and sexually active people.
Haidar dismissed common misconceptions that HIV is passed through shared utensils, shaking of hands, kissing, using public toilets and swimming pools, and through mosquito bites.
The final presentation on travel safety was conducted by Dr. Anna Farra, who teaches immunology and microbiology (with an emphasis in infectious diseases) at LAU's School of Medicine.
Farra said the first things to consider when traveling are the vaccines that need to be administered, paying particular attention to any viruses that the destination country is known to have a high prevalence of.
Ideally, she said, travelers should prepare six months before a trip and visit their health care providers for a pre-travel evaluation informing the physicians of all planned activities.
"It kind of takes the spontaneity out of life," Farra admitted.
She said it is important to keep in mind the travel season, as different viruses spring up according to weather patterns, climate and other seasonal changes.
She also cautioned students against food safety hazards. Do not drink tap water, make sure it is not used to make ice cubes, and also avoid raw meat because it can carry parasites, she said.
She added: "A good saying when it comes to food is 'boil it, peel it, or forget it.'"