High schoolers take part in chemistry and computer science training programs at LAU
Over 60 students from schools across Lebanon get their first taste of university life during two-week summer courses on the Beirut campus.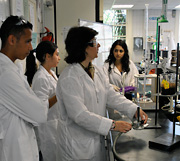 High school students participating in LAU's School of Arts and Science summer training on chemistry being taught to extract caffeine from tea.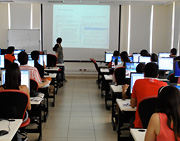 High schoolers attending the Introduction to Computer Science course during the summer training program.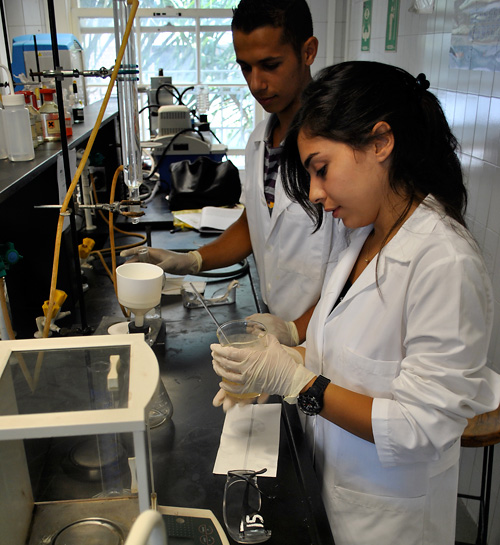 Students prepare soap as part of the training program.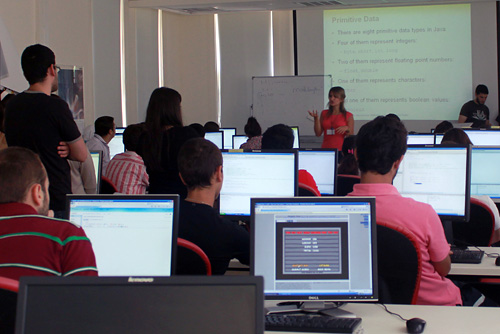 Students learn web development skills.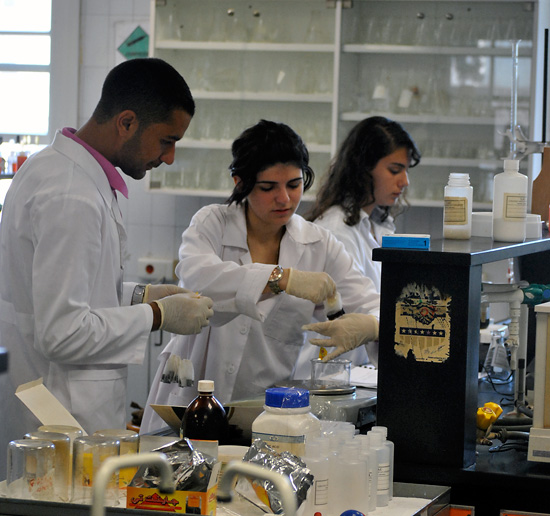 The chemistry program included several sessions at LAU Beirut labs.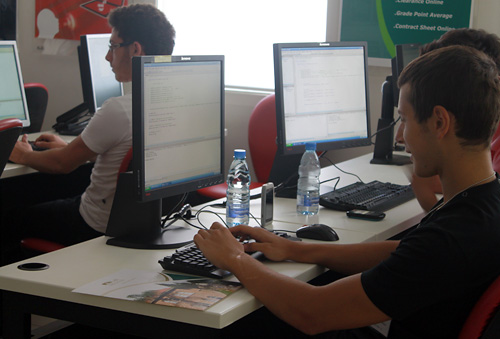 Besides the presentations, the computer science training program included hands-on activities and group projects.
Click on any photo above to view all six images.
Over 60 high school students from schools across Lebanon are taking part in the first annual summer training programs on chemistry and computer science, organized by the School of Arts and Sciences at LAU Beirut, supported by the Admissions Office.
From July 4-15, grade 11 students from 35 schools are being taught by LAU chemistry professors how to extract caffeine from tea, prepare aspirin, and make their own soap. Other students are working with computer science instructors on building their own websites and developing games. The programs also include lectures and group projects.
"It's great, because it's so hands-on. We're not just sitting there reacting," says Farah Shaer, a junior at Girls' College in Bashura who is enrolled in the chemistry program.
"The lecturer told us the different components of aspirin, then we prepared it ourselves," she says, and then jokes, "Maybe, I'll make it for free at home now."
The summer training programs stress applied learning over classroom theory, according to Dr. Nashat Mansour, assistant dean of the School of Arts and Sciences at LAU Beirut and professor of computer science.
"We're trying to make this experience a little bit of fun, while also having practical applications for the students," he says.
Mansour hopes the programs will help acclimate the high schoolers to college life, as well as demonstrate LAU's unique teaching style, which focuses on individual attention to students along with practical skills.
For some students, such as Malek Sadder, the program is their first time learning in a university environment. Though Sadder, a student at American Community School at Beirut, has no plans to study computer science, he says he is excited about "getting to see what college teaching is like."
Others, such as Mohammed Annon, from International College, have a proven passion for computer science. "I knew a lot of these skills already, but it's wonderful to meet new people with so much experience and enthusiasm."
Shaer is already counting LAU among the colleges she plans to apply to next year. "Now, I think I really want to be a chemistry major," she adds.
At the end of the programs, six talented participants will be chosen to receive partial scholarships, should they choose to attend either of LAU's programs. Three students participating in the chemistry training sessions will be offered a scholarship covering 20 percent of tuition after financial aid, while three computer science students will be given 15 percent of tuition costs after financial aid.
The chemistry and computer science fields were chosen as pilots for the summer camp to raise awareness about each department.
According to Mansour, many students don't realize the career potential a chemistry major possesses, and the program will help boost interest among possible incoming students.
Though the computer science program has a high level of enrollment, Mansour adds that LAU already possesses faculty and computer equipment to accommodate more students. The computer science program is being considered for accreditation by the Accreditation Board for Engineering and Technology (ABET) and the application is in the final stage. The only other university in the region to hold the accreditation is the American University in Cairo.