Highflying alumnus back in Beirut
Leading software engineer Samir Abou Samra visited the Beirut campus to meet with LAU officials.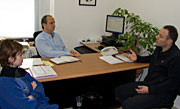 Samir Abou Samra (right) with Alumni Relations Director Abdallah Al Khal and Alumni Relations Assistant Director Ghada Majed.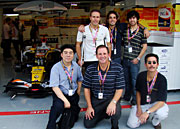 The DigiPen team, headed by Abou Samra (top left), with representatives from the Renault Formula 1 project.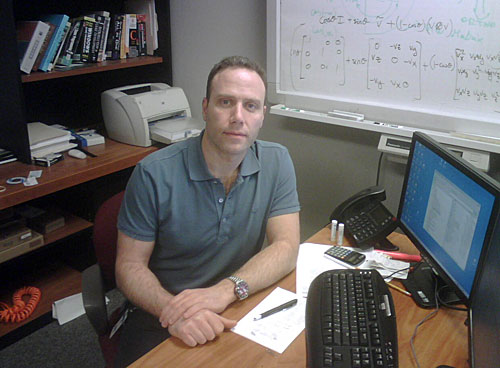 Abou Samra at work.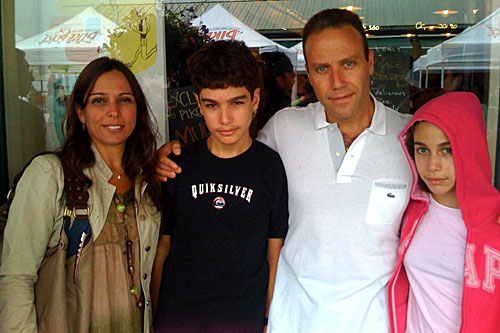 Abou Samra with his wife Mirna, also an LAU graduate, and their children Yara and Joey.
Click on any photo above to view all four images
Samir Abou Samra, an LAU graduate whose research has helped improve computer systems in video games and aircraft electronics, met with officials from LAU's Alumni Relations Office on March 30.

Abou Samra works for 3D software engineering company DigiPen and teaches at DigiPen Institute of Technology in Redmond, WA.

He has solved software problems for industry giants such as Nintendo, Microsoft and Boeing.

"The main purpose of the meeting with Samir is to tell him how proud we are of him," said Abdallah Al Khal, Alumni Relations director.

"One of the main objectives of the Alumni Relations Office is to keep our alumni connected with their alma mater and always look for opportunities to engage them in university projects," Al Khal added.

During the meeting, the Alumni Relations Office discussed the possibility of introducing an LAU program related to real-time simulation. Details will be addressed during Abou Samra's next visit to Lebanon possibly next month.

Abou Samra believes that LAU's facilities give students an excellent opportunity to emulate his success. LAU students "are definitely in one of the right places to get their education," he said.

"They need really to take advantage of their time at LAU, the labs and the faculty members, and gain as much experience as they can," Abou Samra added.

It's an approach that has paid dividends for Abou Samra throughout his career.

His own story began in Lebanon, but it has taken him to Canada, the United States, India.

After graduating from LAU in 1995 with an M.S. in computer science, he was recruited by Claude Comair, the Lebanese owner of DigiPen, a company closely linked to Nintendo.

It didn't take Abou Samra long to make his mark in the company's Vancouver office. He said he improved by 157 percent the speed of software on a machine created in Japan.

It was the start of a career spent finding innovative solutions to complex software problems.

"I also had an improvement on the Game Boy Color. As a matter of fact, we got five patents," while working on that project, he said. Three of the patents were his ideas.

Overall, he has been the co-author of eight U.S. patents in game technology and computer science.

The discoveries led to a series of promotions culminating in Abou Samra's appointment as Nintendo's vice president of Operations in Canada in 1999.

But the call of home brought him back in 2001, and he became chief operating officer of DigiPen's production office in Lebanon.

He also set up and directed a program at Holy Spirit University of Kaslik to train the next generation of Lebanese software designers. This DigiPen-supported initiative ran from 2001 till 2007.

But DigiPen's operations in Lebanon were curtailed because of the July 2006 war.

Clients "were afraid not to meet deadlines because during the war they knew that roads were closed, that there was no electricity or Internet," Abou Samra said. But he was determined to complete his work and honor his deadlines.

He moved the workforce into his own house and paid for a generator and satellite communications. "We did our own networking and we finished the project," he said.

Abou Samra then moved back to the U.S., where he is now working on simulation projects for aircraft manufacturer Boeing, as well as assignments for Renault Formula 1, among other things.

Boeing honored him with an outstanding achievement award for solving a crucial problem in aircraft computer systems.

Despite the complexity of his work, Abou Samra said that the secret to his success was simple. "I always knew that whatever [I was told] is undoable is doable," he said.