Honoring renowned poet and philosopher Fuad Rifka
Former students, friends and family of Dr. Rifka, LAU professor emeritus, gather at LAU for a celebration of his newest book.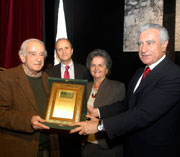 LAU President Joseph Jabbra (right) awards poet, philosopher and LAU professor emeritus Dr. Fuad Rifka (left) with an honorary plaque, as Abdallah Al Khal, Director of Alumni Relations, and Leila Dagher, Alumni Association Board President, look on.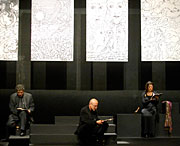 From left: Publisher Sleiman Bakhti, actor Refaat Torbey, and singer and actress Yvonne El Hashem read and perform passages from Rifka's newest book, on the Irwin Auditorium's stage, adorned with illustrations from the book.
In front of a backdrop of illustrations from the latest book of renowned poet and philosopher Dr. Fuad Rifka, LAU professor emeritus, his friends and family members took turns to honor him, during an evening of poetic and theatrical performances held at LAU Beirut's Irwin Hall Auditorium on February 12.
Organized by LAU's Alumni Relations Office, the event celebrated Marthiyat Taer Al Qata, the newest book published by Rifka, who taught philosophy and cultural studies at LAU for over 30 years.
"I am proud to stand on this platform as graduate of this university to honor my teacher," said LAU alum Sleiman Bakhti, publisher of Rifka's new book.
"Fuad Rifka is one of the most important contemporary poets and innovators," he added. "He knows how to mix poetry and philosophy."
LAU President Joseph G. Jabbra said that "Rifka is breaking the boundaries of the country," before going on to list some of his most notable achievements.
Despite the wide praise Rifka received, he insisted that the event was held to honor not him, but rather poetry itself.
"What is this evening honoring?" Rifka asked the audience. "No bravery was achieved by me … nor have I fulfilled anything supernatural," he added. "The evening is dedicated to honoring poetry."
Following the remarks, a three-member ensemble, which included Bakhti, actor Refaat Torbey, and singer and actress Yvonne El Hashem, took the stage to read, sing and act out passages from the book.