Hooding ceremony honors Pharmacy students
The School of Pharmacy holds its annual hooding ceremony.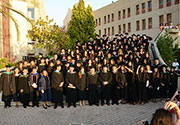 Pharmacy students, faculty administrators and staff gather for a group picture after the hooding ceremony.
Click on photo for larger version.
LAU's School of Pharmacy held its annual hooding ceremony on the Byblos campus on July 2. A characteristic of American universities par excellence, the hooding ceremony is a pre-commencement exercise whereby doctoral hoods are bestowed upon graduating Pharm.D. students, and B.S. in Pharmacy students are honored with School of Pharmacy pins.
Upon receiving a recognition trophy for his notable achievements and contributions to the School of Pharmacy at the onset of the ceremony, the dean of the school Dr. Pierre Zalloua addressed the students saying, "You are now leaving LAU, and many more doors will be open for you. Don't be afraid; walk through those doors and seize every rising opportunity. You have all the elements of success in you."
In the presence of LAU President Dr. Joseph G. Jabbra and LAU faculty and administrators, Zalloua expressed the wish that the students would "keep two essential ingredients on [their] various journeys onwards: faith and hope."
Reminiscing about those long nights spent "high on caffeine" and falling asleep with books and articles in hand, class valedictorian Stephanie Matta addressed her fellow colleagues saying that "our competence and commitment to working hard and together, is what got us all here. This, however, would not have happened without the tremendous and endless support of our families and friends, the dedication of faculty and preceptors, and careful planning of administrators."
Looking at the audience she added, "It may have taken me a whole six years to realize, but now I understand: pharmacy isn't just a job — it's a lifetime commitment to serving the individual and the community with the goal of improving human health."
As Pharm.D. graduates were draped with doctoral hoods and presented with the Pharmacy Oath, B.S. in Pharmacy students received the School of Pharmacy pins bearing the logo of the school and the date of their graduation.
Proud and delighted to have finally concluded a big chapter in her life, graduating student Carla Karam said, "It's certainly been a nice journey, but a very stressful one. My advice to younger students would be not to give up — it can at times be very hard not to, but you have to persevere."
 
The following students were presented with awards at the hooding ceremony: Nisrine Haddad, Highest GPA Award (B.S in Pharmacy); Martin Dibo, Student Professionalism Award (B.S. in Pharmacy.); Stéphanie Matta, Highest GPA Award (Pharm.D.); Patrick Tannous, Student Professionalism Award (Pharm.D.); Marie-Lynn el Helou, Therapeutics Award (B.S. in Pharmacy); Caroline Dernegossian, Student Clinical Excellence Award (Pharm.D.).