Hospitality management students team up with Rotana Hotels staff to help orphans
1,500 boxes of delicious treats were prepared and delivered to children's centers.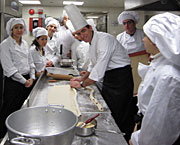 Rotana chefs spent two days cooking with hospitality management students inside LAU's hospitality lab.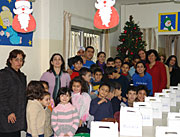 Rotana and LAU representatives with children at one of the centers where the food boxes were delivered.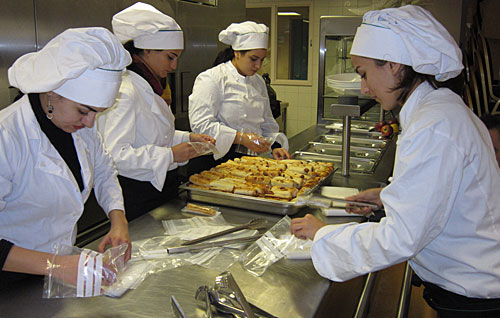 LAU students prepare and package hot dog rolls.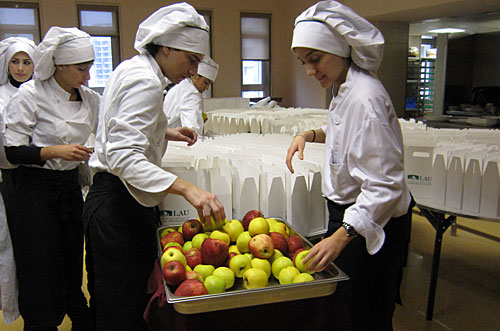 Students filled the boxes with apples, hot dog rolls, chocolate milkshakes, muffins and candy.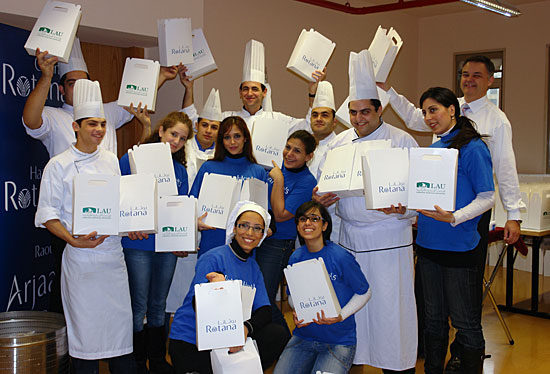 Rotana staff members (wearing blue) pose with LAU students after finishing the packages.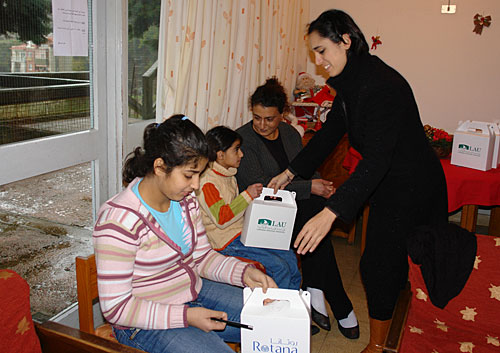 Lara Daniel, area director for Marketing and Communications at Rotana Hotels, hands the treats to children.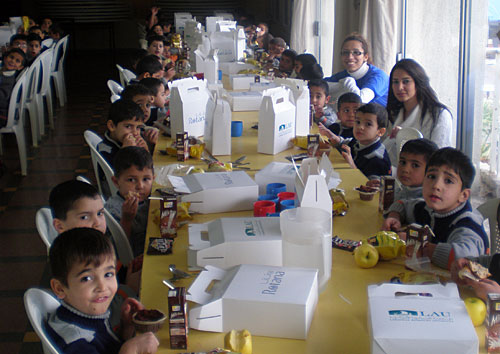 Children enjoy their snacks at one of the centers.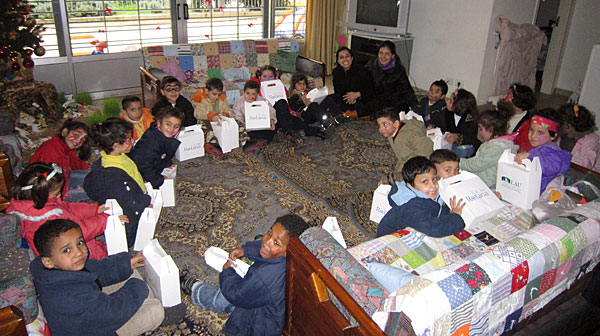 Children at one of the centers after receiving their treats.
Click on any photo above to view all eight images.
A team of chefs and representatives from Rotana Hotels in Beirut visited LAU's hospitality lab on the Beirut campus on December 16 and 17 to help hospitality management students prepare over 1,500 boxes of treats for orphans that were distributed to several non-profit groups on December 18.
About 20 students worked on the collaborative project, cooking hot dog rolls and packing the contents over the two days, alongside staff from three Rotana hotels in Beirut — Raouche, Hazmieh and Gefinor.
"Usually we celebrate Christmas differently at the university but we decided this time to do something for people that need to have joy on that day, so we came up with this idea," says Georges Tamer, hospitality lab supervisor. "They are just small packages, but at least they will make the children happy."
On December 18, the students and hotel staff packed four buses, two from LAU and two from Rotana Hotels, and travelled through Beirut and its suburbs to hand-deliver the boxes of treats to eight children's centers including Caritas, Dar Al Aytam and AFEL. They also spent some time interacting with the excited children.
The boxes contained sandwiches, muffins, chocolate milkshakes, potato chips, candy and apples. Each box and its contents were worth about $10.
Rotana Hotels, which has in the past provided LAU students with scholarships, financed the entire project, while LAU provided its facilities and other logistics.
"You've got all these young students who will be the future of the country so why not engage them in such a humanitarian activity?" says Lara Daniel, area director of Marketing and Communications at Rotana Hotels, and LAU business graduate.
"It's doing good for the community, and it's helping students at the same time," she adds. "It's a win-win situation."
Preparations for the project began approximately two weeks earlier.
Dr. Said Ladki, chair of the Hospitality Management and Accounting Department at LAU, reveals the project was not strictly aimed at providing meals for children or experience for students.
He says Rotana Hotels is looking to hire fresh graduates and train them for management positions, so they used the opportunity to scout for potential recruits.
"The overt objective of this function is to help the needy," Ladki says. "The covert objective is for Rotana to come and observe graduating seniors on a job, as to how they perform, so they can recruit them — It's like a corporate test in a real-life situation."