How sweet is your blood?
The Department of Natural Sciences and DiaLeb raise awareness of diabetes on World Diabetes Day.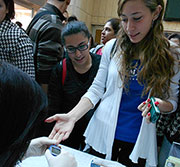 Students rushed to get their blood glucose levels after the lecture.
Click on photo above for larger version.
Did you know that 246 million people are affected by diabetes worldwide? Did you know that 20.2% of the Lebanese population is affected by diabetes? Did you know that 50% of those are unaware of their condition?
To commemorate World Diabetes Day on November 14, the Nutrition program in the Department of Natural Sciences, together with the Nutrition Club, orchestrated a series of activities on both campuses to raise awareness of the risk factors associated with the disease, and the complications that result from leaving it untreated.
Accordingly, the National Diabetes Organization (DiaLeb) organized an interactive lecture addressing the importance of maintaining healthy dietary and lifestyle habits, followed by a complimentary administration of blood glucose tests. The event took place on November 13 on the Byblos campus and on November 14 on the Beirut campus.
"Diabetes is a chronic illness that requires lifelong management. It is not a disease that comes and goes. But there should be no fear or shame associated with saying, 'I have diabetes,'" said President of DiaLeb Dr. Jacqueline Kassouf Maalouf at the onset of the lecture.
There are two types of diabetes: type 1 and type 2. While both can affect people at any age, type 2 diabetes - which amounts to 90% of total diabetes cases - can be prevented by maintaining healthy body weight, consuming a balanced diet, and engaging in regular physical activity. Type 1 diabetes, which affects 10% of total diabetes patients, is not preventable.
Doubtless, many affected individuals might find it difficult to — publicly or otherwise —acknowledge that they have diabetes, but this is largely to misconceptions about the disease, stressed Maalouf.
Dr. Maya Bassil, assistant professor of Nutrition and coordinator of the event, agrees. "The more you know about the disease, the better prepared you are," she said. "When it comes to diabetes, knowledge is power because it can't be cured, at least not yet."
When Maalouf's daughter Sylvie Maalouf, current managing director of DiaLeb, was diagnosed with type 1 diabetes at the age of 24, the mother-daughter duo decided to take action and help to spread awareness about the disease. Founded in 2011, DiaLeb is the fruitful product of this collaboration. The non-profit organization aims to support affected individuals by disseminating pertinent information about the disease, and encouraging them to better manage their condition by promoting healthy eating habits and lifestyles.
"My daughter has two children now, and she is probably healthier than anyone in this room," proudly said Maalouf. "If your diabetes is under control, you can lead a very wholesome life."
Students rushed to get their blood glucose levels tested after the lecture, creating a flurry of activity in selected areas on both campuses. "The lecture was very interesting, but also reassuring. It's good to know that you can lead a normal life if you're managing your diabetes properly," said first year Nutrition student Nour Fakhoury after getting her finger pricked for the blood glucose test. "I'm curious about my blood glucose levels. You can never be too safe," she added.
The School of Medicine, together with the Medical Students Association, also raised awareness on November 14 at LAU Byblos with a blood testing station attracting students, faculty and staff on campus.