How to deal with eating disorders
British psychologist explains the challenges faced by health professionals.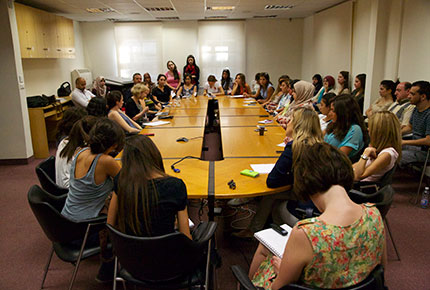 On September 24, the Department of Natural Sciences kicked off the academic year with its first lecture, "Ten Things to Know About Eating Disorders." Students, faculty and specialists in the field gathered to listen to psychologist Deanne Jade, who is the principal and founder of the National Centre for Eating Disorders, U.K., give a breakdown of the various challenges faced by health professionals when dealing with patients with eating disorders (ED).
"Most of us in some way have an issue with food — we go on diets — but it's when that compulsion starts to harm the body that professional help is needed," Jade explained pointing at the real danger of ED: "One in five people with anorexia will die."
According to the psychologist, ED cannot be put down to a single cause; instead, it is the result of interactions between genes, physiology, emotional experiences and upbringing. "It can't be categorized and therefore there is no one method to treat it." Whether it is with psychotherapy or cognitive behavioral therapy, another challenge lies in giving the patient — an enormous amount of — information at the right time and in the right way. These can be properties of specific foods, components of a balanced diet, data about physical and psychological impacts of binging and purging, genetic influence on body weight, fat distribution, shape and last but not least, health risks.
"Often, [patients with ED] are people who cannot manage relationships, who don't have the emotional strength to cope with disappointment," Jade said. When followed by a health professional every bit of progress exposes them to deeper challenges of coping with life. "So their relationship with their therapist is key," she stressed.
Another sobering fact was how recovery of patients with ED can easily be 'derailed'. "Only when someone has the capacity for self-regulation can they be left," the specialist said reminding the audience that men are also sufferers of ED.
While the Middle East is not immune to the problem, awareness in the region remains poor. Assistant Professor Dr. Nadine Zeeni, LAU's nutrition program coordinator and organizer of the event, has herself conducted studies on ED in Lebanon. The results found that at 44 percent, bulimia nervosa was the most prominent, followed by anorexia nervosa at 30 percent.
"Lebanese women are extremely pressured by society," she pointed out before adding: "I've met many girls who have strategies for purging, and believe me, they can be creative."
As the country sees a rise in the disorder, Zeeni stresses that encouraging people to seek help before they reach a severe stage is paramount. The newly created Middle East Eating Disorders Association (MEEDA) has started running awareness in schools around Lebanon, Kuwait and the UAE. Its founder and president, clinical psychologist Dr. Jeremy Alford, present at the lecture, explained that starting in 2014, MEEDA is going to be offering accredited professional training for qualified professionals in medicine, psychology, and nutrition, in the form of diplomas and master practitioner courses, two of which will be headed by Jade.