How to operate a fantastic B-school
After gaining prestigious AACSB accreditation, LAU's Adnan Kassar School of Business hosts a major business school seminar series.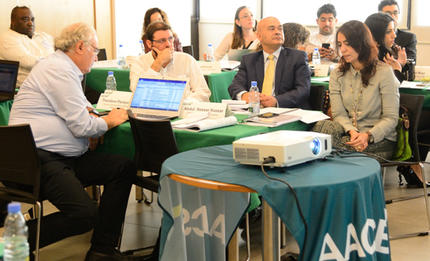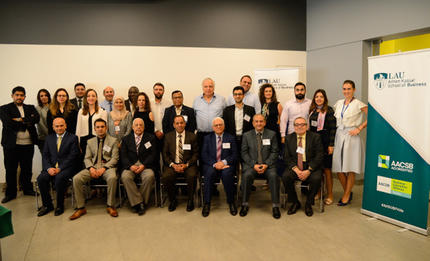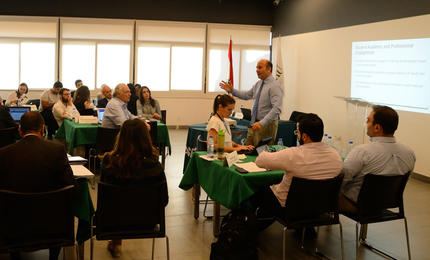 For the first time ever, the Association to Advance Collegiate Schools of Business (AACSB) chose Lebanon as the site of their MENA Advisory Board meetings and seminars. These were held across both LAU campuses and delivered in coordination with the Adnan Kassar School of Business (AKSOB), which received accreditation in April of last year.
AACSB accreditation is globally recognized as the longest-standing, most recognized form of specialized professional accreditation an institution and its business programs can earn. AKSOB's accreditation ensures that its students are learning material most relevant to their field of study, preparing them to be effective leaders upon graduation.
AKSOB Interim Dean Said Ladki said that he and others at the school were "delighted to talk about its accreditation journey and showcase the learning resources and facilities available on both campuses."
"The school is keen on becoming the leader of accredited business education in the region. Hosting the events at LAU has brought added visibility to AKSOB," he added.
Accreditation involves a rigorous external review of the school's ability to provide the highest quality programs, and includes an evaluation of its overall mission, faculty qualifications and curricula.
Getting accredited is more than nominally important. Indeed, 90 percent of the Economist's Top 100 Full-Time M.B.A. Programs are housed in business schools that have AACSB accreditation, and four out of five alumni from AACSB-accredited schools say their graduate management education has contributed to improvements in their competitiveness, proactiveness, innovativeness and creativity.
The seminars held at LAU focused on all business schools in the region, whether already accredited or in the process of pursuing it. In all, 14 institutions from 11 countries sent representatives.
The first seminar, on Business Accreditation, was facilitated by Ananth Rao, dean of the Dubai Business School, and Timothy Mescon, executive vice president and chief officer of AACSB International-EMEA. The second, on Assurance of Learning (AoL), was led by Mohammad Ghuloum of Kuwait University and Rihab Khalifa from United Arab Emirates University (UAEU).
LAU Provost George K. Najjar, who is also a former founding dean at the American University of Beirut's Olayan School of Business and former vice president and dean at the University of Bahrain, facilitated the third seminar alongside AACSB's Mescon.
The seminar, on Strategic Planning for Business Schools, showed how to capitalize on strengths, prepare for the future, and put in place growth and improvement plans. Najjar and Mescon asked business schools to focus on articulating their mission. "The fundamental distinguishing dynamic of enduring great B-schools," Mescon said, "is that they preserve a cherished core ideology while simultaneously stimulating progress and change in everything that is not part of the core ideology."
The fact that AACSB held its MENA Advisory Board meetings and seminars at LAU, said Provost Najjar, "speaks to the pivotal role of LAU as a leading regional center of business education. This is the first time a series of events on this scale takes place in Lebanon, with participants coming from nearly a dozen countries."
"Many of the major business schools in this part of the world were represented at this event by their deans," he noted.
"This was an experience of great importance for AKSOB," said Samar Aad Makhoul, accreditation and continuous improvement coordinator at AKSOB and the event's organizer. "We had the opportunity to welcome institutions from different parts of the world on both Beirut and Byblos campus. Participants focused on particular topics related to AACSB and discussed major challenges facing business schools."
The participants were "very appreciative of LAU's hospitality," said Najjar, "and AKSOB's leadership potential was clearly reflected in their impeccable hosting of one of AACSB's most important forums."