Hundreds of students take part in LAU's fairs for the arts and sciences
Middle and high school students from across the country gather on Byblos and Beirut campuses to take part in the annual event.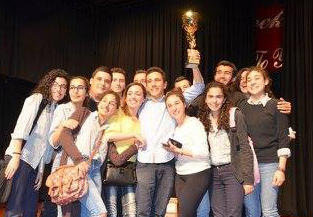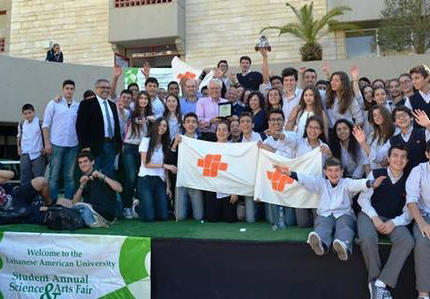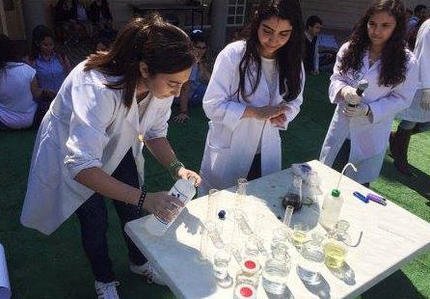 Hundreds of middle and high school students from across Lebanon showcased their talents and honed their skills at LAU's recent annual fairs for the arts and sciences organized at both the university's Byblos and Beirut campuses. Eager to share their ideas, the students participated in numerous multidisciplinary competitions winning awards, medals, and scholarships.
"This fair is important because we can compete not only with our classmates, but also with students from other schools," said Omar Hariz, from the German School, who took part in the Chemistry competition. "In addition, it helps us decide what major to choose in the future."
Indeed, every year participants get the opportunity to discover various fields of study – performing arts, chemistry, robotics, English and Arabic writing, among others – expanding their knowledge and creativity in an educational and fun environment, while acquiring teamwork and communication skills.
Walking around and hearing students talk about their projects or performances was uplifting to say the least. "The students are what make this event successful, and they are the essence of its existence," said Mars Semaan, the dean of students at LAU's Byblos campus. "And the dedication and enthusiastic efforts of the whole LAU team make it a pleasant experience with a very positive impact," he points out.
The same sentiment was echoed by Raed Mohsen, the dean of students at LAU's Beirut campus, "We were impressed with the performance of the students who proved that, given the opportunity, they are capable of being innovative and creative even under the supervision of unknown soldiers i.e. their educators."
In Beirut, about 900 students from 60 schools participated in 25 different competitions. Screams of joy and pride were heard at the announcement of the award winners, where two 50 percent scholarships were given to Aya Abdel Khalek from Saint Mary's Orthodox College and Nader Zantoot from Hariri High School II respectively for winning the Performing Arts and Chemistry competitions.
Gibran Khalil Gibran, the great Lebanese philosopher, writer, poet, and painter inspired the theme of this year's fair in Byblos. As a result, 41 schools with more than 1,400 participants competed in 32 sciences and arts contests such as painting, photography, poetry, writing, singing, dancing, and fashion, in addition to engineering, sciences, health and environmental awareness.
"No matter how successful every year is, we try to improve the following year," said Joseph Waked, the event's Byblos coordinator. Christina Bouri the event's Beirut coordinator agreed explaining, "Each year we adapt the activities to the students' interests — we try to have activities that are up-to-date and educational at the same time."
This year showed an increase in everything, the number of competitions, the number of participants and the number of schools, which doubled with 60 schools registering. "Another significance of this fair lies in bringing together students from different private, denominational, and public schools who wouldn't have met elsewhere," explained Mohsen.
Mansour Abou Shaar from Jesus & Mary School-Rabweh won the 50 percent sciences scholarship for perfectly designing and operating a robot. A further, two 25 percent scholarships were given to each of Dorothy Tanios from the Holy Family School-Batroun for excelling in the Fashion Design competition and to Andrew Dawaf from Saint Joseph School-Cornet Chahwan for his outstanding performance in the Public Speaking competition.
"This fair really challenges the students," said Zeina Bizri, an English teacher at Beirut's Rafic Hariri High School. "It gives them the chance to interact with others, encourages them to develop their skills, and helps them know how good they actually are."
Khalil Al Asha from La Cime 3 School-Choueifate echoed the feedback of every student, "I benefitted a lot from the research I undertook while preparing for my project. The fair was really well organized, and everyone was very helpful and encouraging. Most importantly, it taught us commitment and determination."
This year's event exceeded expectations by far. "It was great to see the schools respond positively to modifications introduced by the organizing committee headed by the School of Engineering's Assistant Dean Barbar Akle," explained Semaan. "LAU is known to provide a friendly yet competitive environment, and this is why the students love it," he added.