Imaginative installations by LAU alumna feature in high-profile Venice Biennale
The works displayed by installation artist Marya Kazoun at the celebrated art event revolve around the Mommoth, a magical creature invented by her.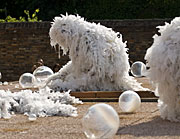 Mommoth, LAU alumna Marya Kazoun's piece for the "Saint Helena" exhibition.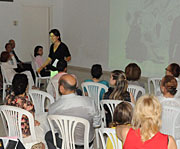 Through a series of slides, Kazoun tracked the development of her work during a recent lecture at LAU.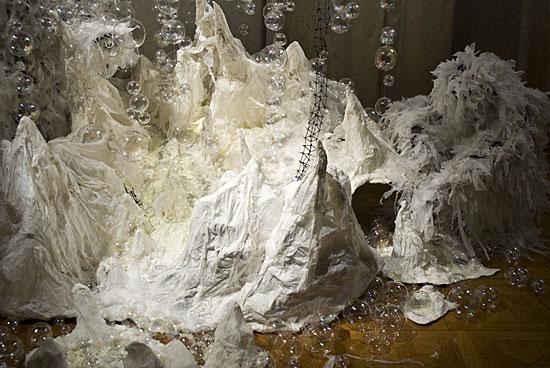 Habitat, the installation Kazoun has been featuring in the "Glasstress" exhibition.
Click on any photo above to view all three images
Marya Kazoun, an installation artist who graduated from LAU with a B.A. in interior architecture in 2000, has two of her works showing in collateral events to the high-profile 53rd Venice Biennale in Italy.
One has been on display at "Saint Helena," an exhibition about the island of the same name featuring five women artists. The second work is featured in "Glasstress," a collection celebrating the use of glass in contemporary art. Both events started in early June and continue until the end of this month and late November, respectively.
Kazoun's work is characterized by challenging subject matter combined with a lush, pretty aesthetic.
"My pieces look very nice and fluffy, but when you get close to them, it's like, 'Oh. This is weird,'" the artist explained to her audience during a lecture at LAU's Sheikh Zayed Gallery on July 29. Kazoun returned to her former place of study to talk about her trajectory since graduating from LAU at a lecture organized as part the LAU International Theater Festival.
Mommoth, Kazoun's piece for the "Saint Helena" exhibition, is the name of a magical creature invented by the artist. The work features two performers dressed in bodysuits literally covered in white feathers.
"There is always a story in my pieces," the artist told her LAU audience. "Often, I find myself writing a screenplay."
The piece from "Saint Helena" revolves around a narrative in which the island and its inhabitants are saved by the Mommoth, a magical white creature who gathers up breast milk from the island's mothers as an offering.
The Mommoth is represented by a giant structure made out of diverse materials, while the two performers represent the creature's arms. During the installation, they gather up glass globes filled with real human breast milk, collected by Kazoun and her associates from contemporary islanders.
Habitat, the installation Kazoun created for the "Glasstress" exhibition, features the same Mommoth creature. This time Kazoun has created what she imagines to be Mommoth's home, a fluffy white cave with a lot of glass balls dangling above.
"My works display an unconscious fear of the advancing climate change," Kazoun says. "The environment now is so fragile, like a bubble."
Kazoun, born in Lebanon but now living in Italy, was rapturously received by her audience at LAU. During a question-and-answer session after Kazoun's presentation, many audience members spoke up to express how much they admire her work.
"I feel you are conquering your demons," said one lady. "Compared to your early work, you are transcending the darkness and coming to a place of light."
"I'm giving voice to myself as a five-year-old child," Kazoun explained. "During the war [in Lebanon], I saw such horrible things, but I couldn't express myself. Now, as an adult, the fear and pain are still here. But now I can try to domesticate them."