Imaginative yet functional furniture designs win contest
LAU student Ramzi Naja and recent graduate Mirna Sabbah came first and second for their designs.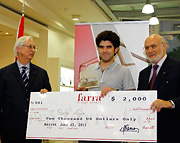 LAU architecture student Ramzi Naja receiving his first-place prize by the organizers of the "Divine Details" furniture design competition, sponsored by Farra Design Center.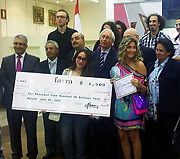 Recent LAU graduate Mirna Sabbah displays her second-place prize.
LAU student Ramzi Naja and recent graduate Mirna Sabbah from the School of Architecture and Design won the first and second-place prizes in a recent national design competition for their innovative furniture models.
Twenty-one students from universities across Lebanon competed in the Farra Design Center-sponsored "Divine Details" competition, created in 2004 with the objective to encourage youth participation in design. Farra Design Center is a furniture store in Mkalles with one of the largest imported collections in Lebanon.
"I went for the most basic element to design — a module," says Naja, a third-year architecture student, who created a series of cubes that could easily be unified or separated to serve a variety of functions: a coffee table, TV stand, book shelves, desk, etc.
"This modular system allows users to create their own furniture that doesn't otherwise exist or goes beyond what you see at a regular furniture store," Naja adds.
The participants were free to design and submit any full-scale piece of furniture they wanted as long as it could fit into a two-meter by two-meter box.
Sabbah, a 2010 interior architecture graduate, designed an oriental-style lamp that doubles as a mop and bucket. She designed it over a year ago for one of her classes, but never expected it would earn her a cash prize and recognition.
"Our department at LAU told us about this competition and encouraged us to participate," Sabbah explains. "So in May we submitted our projects. About 20 of us were shortlisted for the competition. Soon after they announced that we had won."
Naja and Sabbah were awarded $2,000 and $1,500 for their designs, respectively, during a ceremony on June 3.