Incubating ideas
Graphic Design student Cosette Saliba dominates Lebanon's Startup Weekends this year and sweeps up two prizes.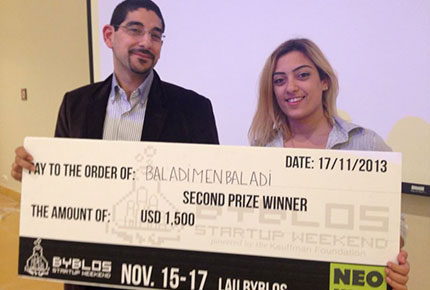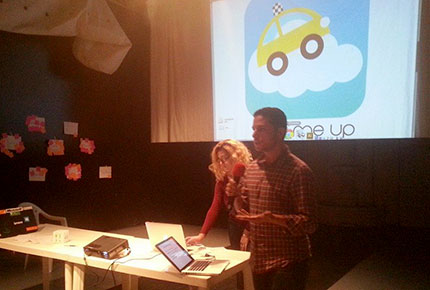 LAU Graphic design student, Cosette Saliba and associate Firas Darwiche, dominated Lebanon's Startup Weekends this year, sweeping up two prizes for their innovative startup concepts. Saliba shares their first step into entrepreneurship.
At the Byblos Startup Weekend, you won second place with Baladi Min Baladi. Tell me more about this startup concept.
Cosette Saliba: It's an e-commerce platform that showcases traditional homemade goods from Lebanese villages categorized by product, season and region. We sell online through this platform and deliver directly from the producer in the village to the consumer in the city.
How did you conceive the idea?
Cosette Saliba: I live in Bchelly, a village in the Jbeil region and am in direct contact with farmers and housewives who produce traditional mouneh, but struggle to find customers other than their neighbors. I also noticed that city dwellers are keen to purchase healthy, tasty homemade produce but have no contact with the villagers who make them. Baladi Min Baladi links these two needs.
What was the design process?
Cosette Saliba: We did market research with both consumers and producers, wrote a business model and designed the platform. We had mentors from the Joint Chamber International (JCI), who helped us with the business side of things. We worked with Dolly Akiki, a technology consultant, Sharbel Maroun, an experienced entrepreneur and Nadim Inaty, a product designer. My partner, Firas Darwiche, is an expert in UX (User Experience) design, so he made sure that the platform was very user-friendly and interactive. I came up with the concept and was in charge of branding and web-design.
After winning, how will the project be put into action?
Cosette Saliba: Between the many prizes, Baladi Min Baladi won an incubation program from Neopreneur and Berytech. They will, very soon, provide us with all the resources we need to start the business. In addition, I got accepted into the Arab Women Entrepreneurship Program (AWEP). We're now also participating in the international competition in business planning, Global Social Venture Competition (GSVC).
You also won third prize at the Beirut Startup Weekend for your app, "Pick Me Up." Was that a concept born out of personal frustration through travelling in Lebanon by service?
Cosette Saliba: Yes, it tackles many problems associated with taxi services in Lebanon; first and most importantly, trusting the taxi driver. For this problem we included different features: rating the overall experience with the driver and the car, feedback about the manners of the driver, his driving attitudes and whether he smokes in the car. There are options to either blacklist a driver so they don't appear on your map anymore, or make them a favorite.
Another main issue is waiting for taxis at night in bad weather or other unsafe conditions. With Pick Me Up, the customer can track the path of the taxi from its original destination to the minute when it arrives to the customer's location.
To ease long taxi rides or being stuck in traffic, Pick Me Up will also offer its customers WiFi, coffee and water, all for free.
Why did you choose to launch your two projects at the Startup Weekends?
Cosette Saliba: The Startup Weekend is a great tool for young entrepreneurs to test their business ideas in the real world. Mentors provide constructive feedback to transform your project into a successful startup. After winning the Byblos Startup weekend, Beirut Startup Weekend was a challenge for us since it was more competitive, but we had this second idea that we wanted to test in front of leading entrepreneur judges.
To see a video of their presentation, click here.