Institutional research office to improve LAU image
Led by Dr. Diane Nauffal, the Office of Institutional Research and Assessment provides LAU entities with statistical studies, surveys and assessments to improve the management of university resources.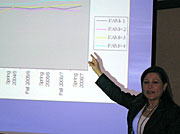 Dr. Diane Nauffal is the director of LAU's Office of Institutional Research and Assessment, which provides university entities with statistical studies, surveys and assessments.
Having spent her first few months at her new job as the director of the Office of Institutional Research and Assessment — established at the end of last year — Dr. Diane Nauffal recently explained the projects she has undertaken.
The need to improve accountability and its management of public and private resources through strategic planning and decision making has led LAU to establish the office.
It provides LAU departments and offices with statistical studies, surveys and assessments of academic progress and operational outcomes. It also prepares the annual LAU fact book as well as data related to accreditation.
"The purpose is to centralize the data. Any information needed can be collected from this office. And in that way, you project one image for LAU to all the people that you report to," says Nauffal. "The need for the office came up when LAU embarked on
accreditation
."
Before the office was created, the process of coordinating resources was done without strategic planning. "We used to plan but didn't have the information to know how to plan," explains Nauffal. "You think you are doing well, but how can you prove that? You need the numbers."
Among her tasks is to help academic departments prepare documents required for accreditation by researching data on enrollment, student retention, level of performance, graduation rate and number of students on probation.
To exchange experiences and discuss common practices with similar institutions in the United States, Nauffal visited the Office of Institutional Research at Widener University in Philadelphia in February where she met with Dr. Stephen Thorpe, director of Institutional Research, and senior administrators. She also met with institutional researchers from five universities in Philadelphia.
Nauffal says LAU is "moving forward in steady and sure strides" as an institution and she sees numerous opportunities for "professional and personal development."
"It is becoming more and more exciting. The people are very cooperative and helpful. It is a dynamic place and there is a lot of energy in the institution," she adds.
Prior to the creation of the Office of Institutional Research and Assessment, Nauffal was the director of Special Programs at the University of Balamand. Her role encompassed the Freshman Program, the Special Orientation Program, The Service Experience-Education Through Doing and the Continuing Education Program. She was also a faculty member in the Department of Mathematics in that university.
With research interests firmly rooted in higher education, Nauffal is currently researching the impact of financial aid on student performance, and working with a colleague on establishing a database for institutions of higher education in Lebanon.
The database will include all the information an applicant to a program may require, such as "the number of faculty, students, programs, and even success of students in a given program," explains Nauffal, adding that the project will be similar to the U.S. university rankings.
Nauffal also has ambitions to teach mathematics and statistics at LAU, which could be offered as operations research and statistics courses for business, biology and engineering students.