Italian designer helps LAU students produce Beirut architectural guide
Graphic design students learn from Paolo Tassinari's insight and experience during a three-day workshop.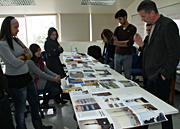 Paolo Tassinari gives his feedback to students on the printed materials.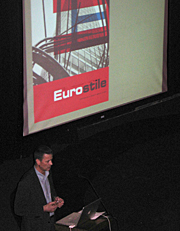 Tassinari during the LAU lecture.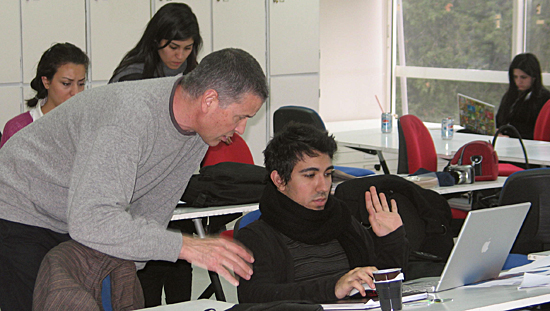 Student Rami Dally discusses his work with Tassinari.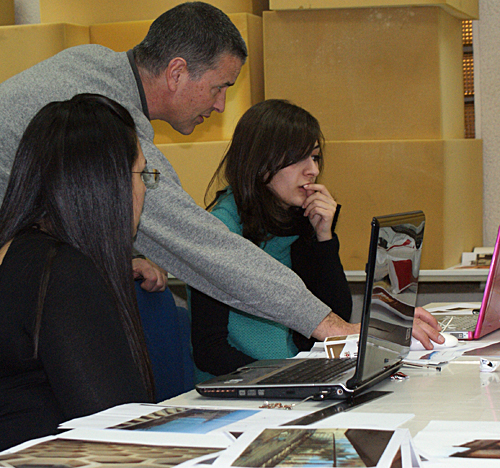 Students Stephanie Arzrouni (left) and Talar Kizirian listen attentively to Tassinari's remarks.

Click on any photo above to view all four images
Italian designer Paolo Tassinari mentored 20 LAU senior graphic design students to create a 90-page guide of architectural monuments unique to Beirut during a three-day workshop late last month.

Tassinari, art director of the architectural monthly magazine Casabella and of Electa publishing house, first introduced students to historical guide prototypes, architectural books and guides, and other theme publications.

Tassinari advised the students, who are taking the final studio course in graphic design, about how to deal with clients and grasp their demands. "The most important thing is the ability to understand what is required from you," he said.

Each student was then asked to compile information by researching a building, an area or a tower in Beirut, said Graphic Design Chair Randa Abdel Baki.

The students collected pictures of Beirut monuments, such as the light tower in Al Manara, the Opera House in Downtown, and a 1920s building that now serves as a bar called Central.

They placed the photos in the layout defined by Tassinari, described the monuments, and provided information on how to reach them, while Tassinari oversaw their work and gave feedback.

All students "had to follow the same grid. And when there are constraints, that's when you start seeing more creativity," Abdel Baki said.

Student Rami Dally said Tassinari taught him a different way to achieve a graphical outcome. "It's a new culture, a new process and a new introduction to graphic design," he said, adding that the workshop offered him also the opportunity to work in a group.

According to Abdel Baki, the guide will be displayed at the final-year projects' exhibition.

The workshop, held on the Beirut campus, was organized by the Graphic Design Department in collaboration with the Italian Cultural Institute.

Tassinari, who teaches at the Faculty of Architecture in the University of Trieste and at the Scuola Politecnica di Design in Milan, also gave a campus lecture on February 26, a day before the students headed to work.

He explained that the lecture was entitled "Letter by Letter" because it was held where one of the oldest alphabets had emerged—hinting at the Phoenician. Another reason was that Beirut was the World Book Capital 2009, he added.

The lecture was like an A–Z glossary. Tassinari linked every letter to a graphic-design-related thought or a project by the Tassinari/Vetta design office, the studio he owns with Leonardo Sonnoli in Italy.

For A, Tassinari talked about design typography found on architectural monuments. For B, he showed books designed by his office such as Casabella Just Turned 80 whose length is emphasized by its colored edges.

Overall, he presented 200 images, each related to a keyword such as colors, forms, exhibition, identity, numbers, objects, reading, sound, time.

Abdel Baki said that the department is planning to invite other international graphic designers to share their experiences with students.