Investing in human capital
The Department of Management Studies organizes a conference entitled "Recruitment Challenges in the Middle East."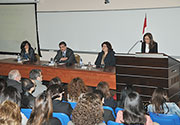 Dr. Sylva Karkourian, chairperson of the Department of Management Studies presenting the panel.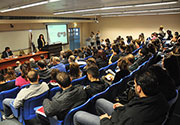 Delloitte Regional Talent and Communications Partner Rana Salhab addressing the audience.
Click on any photo for larger version.
Recruitment challenges in the Middle East was the focus of a lecture hosted by the Department of Management Studies at LAU Beirut on March 7.
The event was in line with the department's mission to familiarize students with knowledge, skills and abilities they need for building a successful career path.
"The key to a successful business is to have the right people in the right position," said Dr. George Najjar, LAU provost. "The old employment paradigm was based on land, capital and labor — but there is a recognition now of the utmost importance of investing in human capital," he asserted as he kicked off the event.
Dean of the School of Business Dr. Said Elfakhani assured that LAU's School of Business is incorporating this awareness into the curriculum as well as university activities — both on and off campus.
According to the United Nations Development Programme (UNDP), while Lebanese youth (15-24) represents half of the unemployed population, youth unemployment in Lebanon is estimated to be as high as the average for the Arab region - about 26% - the highest of all regions.
Speaking at the event, Delloitte Regional Talent and Communication Partner Rana Salhab said there is a real talent paradox in the Middle East. "There is high unemployment yet employers face major challenges in recruiting qualified talent," she explained.
On the other hand, according to Salhab employers have a challenge to attract top employees with meaningful and fulfilling work. "Retaining A+ employees is a priority. If they don't feel like the work adds meaning to their lives they will walk out the door," she insisted.
Echoing Salhab's observations Jihad Njeim, assistant vice president for human resources at LAU, stressed the importance of building a culture of employee retention. He also advised students on the importance of linking their personality with their chosen career path. "Your career starts at the age of eight," he said provocatively. "That is when your personality unfolds and it becomes clear what sorts of professions you will instinctively excel in."
Martin Purple is the first company in the Middle East and Africa to provide total Human Resources Outsourcing services. Liliane Nohra, the company's managing partner shared her experience with the audience and said that one of the most important skills to cultivate is cultural sensitivity. "Considering that many graduates look outside of Lebanon for careers, it is important to be in tune with the cultural differences you will face when abroad."
Nohra also reported that one of the major weaknesses Martin Purple finds when evaluating candidates for employment is significant difficulty working with authority.
On a positive note, the panel said that LAU graduates have a reputation for making an impact wherever they decide to pursue their careers.
"This event was very valuable because it gave students a rare opportunity to gain an inside look from the employers perspective," said Charbel Aoun, instructor at LAU's school of business and part of the organizing committee headed by Dr. Sylva Karkourian chairperson of the Department of Management Studies.
Indeed, says third-year political science student Maya Sawwan, "It's nice to know that a degree from LAU will take me far, but this event motivated me to make sure I have the right work ethics that employers are seeking."