Iraqi journalists participate in media workshop at LAU
LAU hosts 13 veteran journalists for a weeklong workshop including media training seminars, visits to major newsrooms, and roundtable discussions.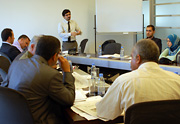 Iraqi journalists participate in one of the seminars organized as part of TIMTAR's weeklong training workshop, held at LAU Beirut November 22–26.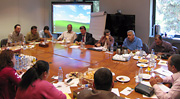 The 13 journalists discuss media ethics with a few of their Lebanese counterparts at a roundtable meeting at LAU's Irwin Hall.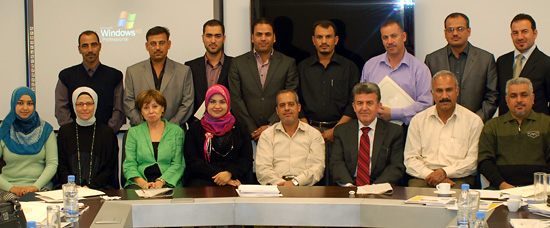 The participating journalists with Dr. Samira Aghacy (1st row, 3rd from left), dean of the School of Arts and Sciences at LAU Beirut; and workshop co-moderators Dr. Yasmine Dabbous (1st row, 2nd from left) and Dr. Mahmoud Tarabay (1st row, 3rd from right).
Click on any photo above to view all three images.
LAU hosted 13 veteran Iraqi journalists for a weeklong training workshop designed to introduce them to Lebanese media practices and to foster intercultural exchange.
The journalists, 11 men and two women, attended seminars on LAU's Beirut campus, met with famous Lebanese media personalities, visited the country's major newsrooms and took in the sights of Beirut during the training week, held from November 22-26.
Organized by The Institute for Media Training and Research at LAU, the workshop comes as part of a USAID program to help facilitate Iraq's move to democracy, according to Dr. Yasmine Dabbous, TIMTAR's director and assistant professor of journalism and media studies at LAU.
The U.S. Embassy in Baghdad funds training programs for Iraqi journalists to educate them about media management and media law in a free system.
"Journalism plays an important role in a democratic state and we would like Iraqi journalists to be exposed to the Lebanese system — as it is relatively free compared to other Arab countries — and to discover the latest technologies fostering better research and distribution opportunities," Dabbous says.
The training course provided comprehensive lectures on such topics as newsroom management, social and political talk shows, media law and ethics, organizational communication, and new media.
The group heard from Gisele Khoury of TV news channel Al Arabiya; Rola Rizk from the staff of Ahmar Bil Khatt Al Areed, a TV talk show that runs on the Lebanese Broadcasting Corporation (LBC); and Ghassan Hajjar from daily newspaper An-Nahar, among others.
In the evening hours, the participants visited Future TV, MTV and the headquarters of An-Nahar.
TIMTAR also organized trips to Jeita Grotto and Byblos for the visitors.
On the final day of the workshop, the journalists were awarded certificates of participation during a small graduation ceremony.
One of the most successful and engaging parts of the week for the Iraqis was the day devoted to new or digital media, led by LAU instructor Ayman Itani, who is a digital media strategist.
"We covered blogging, video streaming, and social networking as means of empowerment. Even the older men were interested in new media," says Dabbous. "They seemed to be really engaged with the subject and wanted to apply it to their workplaces as soon as they got home," she adds.
The workshop also included a roundtable discussion, held in Irwin Hall, between the Iraqis and a group of influential Lebanese journalists, where they discussed similarities and differences between each country's media and culture.
"Technology is more advanced in Lebanon, but our societies are similar in terms of fragmentation and divisions," said Dr. Mahmoud Tarabay, an LAU faculty member who co-moderated the training week (alongside Dabbous).
"Everyone in the room has had to grapple with what the media owner's role should be in deciding the news versus an individual journalist's autonomy," Tarabay said after the discussion.
While security concerns were not named as the major challenge facing these particular Iraqi journalists, who hail from the southern province of Muthanna along the Saudi border (an area that has enjoyed an extended period of stability), a lack of access to information as well as how and where to get further training on cutting-edge techniques were cited as key problems.
"Throughout the week, I was able to reflect a lot on how to strive for independence in the newsroom and have a message to change the status quo," says Fahad Hassan, a reporter for Aswat al Iraq, a newspaper based in Muthanna's capital of Samawa.
According to him, although press freedom is better now than before the 2003 invasion, Iraqi journalists are still facing difficulty in reaching a lot of information relevant to their stories. "But it is getting better slowly," Hassan adds.
Dabbous says she has received emails from the Iraqis since their return home and the feedback has been very positive. "We got such a good evaluation," she says.
"This training week was not meant to be a top-down thing — we weren't lecturing. It was more of an exchange where everyone benefited from each other's stories and approach. The Lebanese learned from the Iraqis and vice versa," Dabbous says. "Such a constructive exchange between Arab countries is badly needed."
Read a story about a similar TIMTAR workshop held earlier this year.