Italian farce strikes a chord among sell-out audience at LAU theatre
LAU professors, graduates and students thrill with a witty Lebanese version of Dario Fo's Can't Pay? Won't Pay!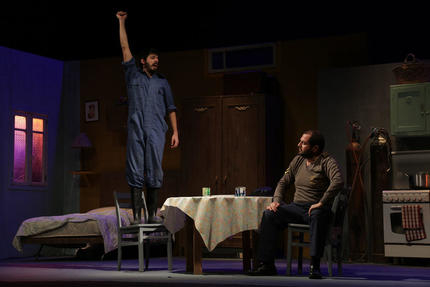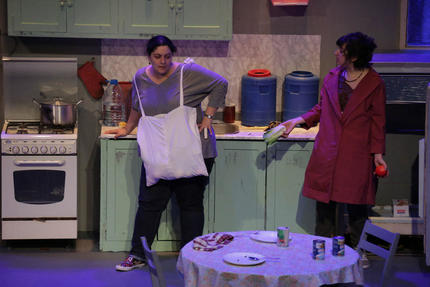 Six actors took to the stage at the Irwin Hall on the Beirut campus last night to delight and amuse a full house with a rendition of Italian playwright and Nobel laureate Dario Fo's seminal work Can't Pay? Won't Pay!
The production, translated into Arabic and directed by Associate Professor of Theatre Lina Abyad, featured two LAU graduates in the cast and dozens of LAU students and faculty in the production crew. "My students enjoyed the process of observing and engaging so much that they forgot they were working to earn a grade," said Abyad, whose "Theatre in Performance" students worked with dedication backstage on all aspects of the production, from props – of which there were many – to lighting, which was designed by instructor Omar Moujaes.
Alumni Hiba Sleiman and Sany Abdul Baki, who teaches theatre at the Department of Communication Arts, were among the actors who dedicated six hours a day every day for a month to rehearsing the wordy farce, which relies heavily on movement and precise timing.
"I changed very little in the script," said Abyad of the process of translation and adaptation for an audience far removed from 1972 Italy. "This is what is great in the text; it's so relatable to every time and place, unfortunately." The text tells the stories of two couples who are struggling to make ends meet, can't buy decent food and are facing eviction. The struggle between their needs and their ethics takes a dramatic turn when the spirit of revolution takes over in a supermarket and women start stealing much-needed food.
"It's a very feminist play, discussing the abuse women go through – housewives in particular," Abyad explained. Ten years ago, she staged another of Fo's works, A Woman Alone, a play about harassment against women that he wrote with his wife Franca Rame. "He is one of my favorite writers and a fantastic person for the theatre," added Abyad of the Italian actor, comedian, singer, playwright and all-round creative who died last year. "So when the Italian Cultural Institute approached us to collaborate, I naturally thought of him."
The Institute has sponsored performances of the production in Nabatiyeh and Tripoli, which will be staged after the six-day run at LAU is over this Sunday (March 19).
A renowned theater director, Abyad is constantly busy both in and outside the university. Next week she will be travelling to Washington D.C. for the first U.S. staging of How Can I Find Someone Like You Ali, which she directed. Among her upcoming productions is one written by LAU graduate Abeer Hamze about women surviving cancer, scheduled to open in July.
"Theatre is my life," she says.