IWSAW trains security forces to combat gender-based violence
LAU's Institute for Women's Studies in the Arab World awards certificates to security officers on completion of a training course in gender-based violence.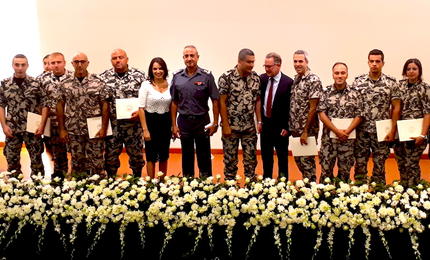 In a ceremony held at the Internal Security Forces (ISF) Academy on September 26, the Institute for Women's Studies in the Arab World (IWSAW) awarded 35 officers of the General Security (GS) and the ISF certificates to commemorate their completion of a five-week intensive training program on gender-based violence. The ceremony was attended by hundreds of officers, representatives from a number of organizations working on gender-based violence, as well as friends and families of graduating officers.
"Gender equality is a critical prerequisite to lasting peace and sustainable development, and safety and security are the key foundations on which this secure future should be built," said Lina Abirafeh, director of IWSAW, speaking at the ceremony. "Security personnel play a key leadership role in upholding the rights of all, and are instrumental in preventing violence against women. They set an example for the country to follow."
Funded by the Dutch Embassy, the tailor-made training program aimed at instructing participants in gender-based violence from a gender studies, human rights, sociology, and psychology perspective, as well as raising awareness of ISF and GS laws, directives and practices. The program imparted practical knowledge on how to deal with gender-based violence in Lebanon and was developed by a committee that included members of both the ISF and General Security, as well as experts in the field of gender equality.
"LAU is delighted to be partnering with Lebanon's security forces for the sake of human rights, and specifically women's rights, in our Lebanon," said Elise Salem, vice president for Student Development and Enrolment Management at LAU.
Brigadier General Ahmad Hajjar, head of the ISF Institute, was also present, and asserted the importance of empowering officers to better understand gender-based violence in line with international legislation.
"The curriculum was comprehensive in its coverage of the relevant topics, was delivered in a modern and effective way by experienced professionals and long enough to enable fruitful and considered discussion," said one cadet who participated in the training.
In order to continue the efforts, IWSAW has now published a manual of all the material covered in the training session. "The unique Arabic-designed curriculum can be shared with other Lebanese security agencies and the army," explained Carol Khater, project manager on the training. "Eventually the material can also be dispersed to security institutions in other Arab countries with similar needs."
LAU also awarded 13 scholarships to cadets in order for them to complete the certificate in Gender Development and Humanitarian Assistance.