James Madison University students embrace Arabic language, culture
The JMU program runs alongside the usual program at LAU's Summer Institute for Intensive Arabic Language and Culture.

Students from James Madison University participating in LAU's SINARC program visit the ancient city of Byblos.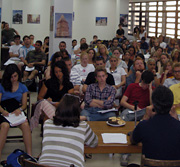 JMU and other SINARC participants listen to a lecture about sectarianism in Lebanon given by Dr. Bassel Salloukh, LAU political science associate professor.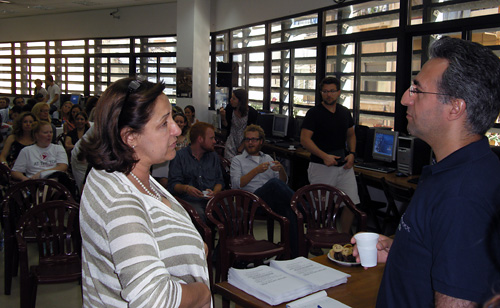 Salloukh speaking with Dr. Mimi Jeha, SINARC director, before his talk to SINARC students.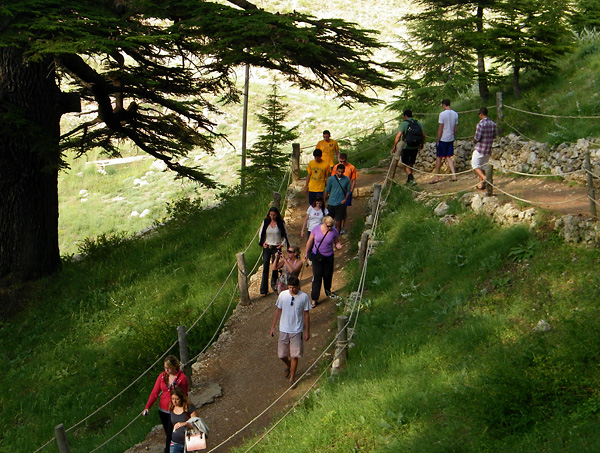 Students walk along a scenic road in the Cedars.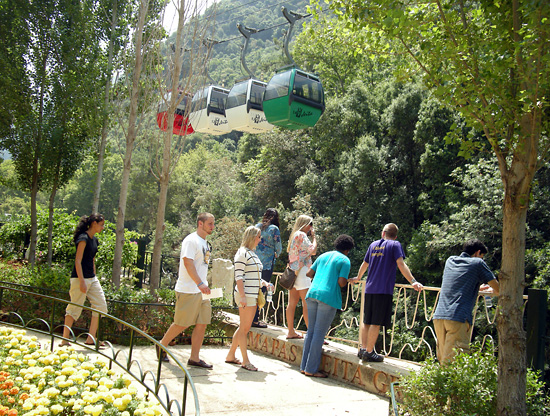 A group of JMU students walking up the mountain to Harissa, a popular pilgrimage site near Jounieh, north of Beirut.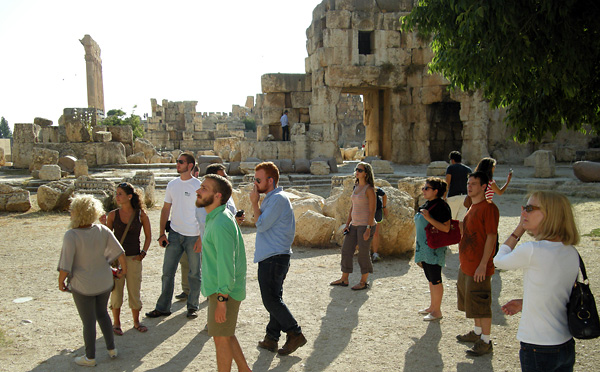 Students take a tour of the ancient temple in Baalbeck.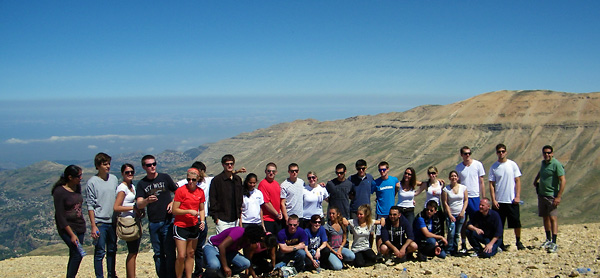 JMU and SINARC participants hike to the highest peak in Dahr Jamial, above the Cedars forest.
Click on any photo above to view all seven images.
For most of the 16 students from James Madison University, Virginia, their month studying with LAU's Summer Institute for Intensive Arabic Language and Culture has offered them a first, in-depth view into the Middle East.
"In the United States, you see certain images in the media, and then you come here and see the vibrancy of Beirut, and see that it's safe, no one is afraid," says Dr. Aram Shahin, a JMU Arabic instructor, who accompanied the students.
The joint venture brings together instructors from JMU and SINARC, one of the leading language institutes in the Middle East. The program relies on LAU professors to teach courses in Lebanese dialect and Arabic for beginners, while Shahin is teaching advanced students. The program runs from June 25 to July 13.
JMU has previously held summer programs in Jordan and Morocco, but Shahin says the university is excited to hold its first study abroad program in Lebanon at LAU.
The JMU program runs alongside SINARC's usual summer program. Language classes are held separately, but the students from the two programs come together to attend weekly lectures on current affairs and visit popular tourist sites around Lebanon.
For Amanda Michatti, a junior studying international affairs at JMU, the program gave her an opportunity not only to experience Arab culture, but also to "see how a city can be [Arab] but so Westernized, and learn how different religions and mixes of people interact with each other."
This year's program includes visits to Lebanon's tourist attractions, including Baalbeck, Byblos, Tyre, Tripoli, Beiteddine, and Deir al-Qamar, as well as a four-day tour of Jordan.
"The trips are a side of Lebanon that I would have never seen had I come here on my own. I wouldn't have done all this without the group," says Michatti.
For others, such as Yassir Razak, an English major at JMU, the political insight gleaned from the weekly lectures has allowed him to engage in streetside political debates. "It's been great going out and talking politics to people like cab drivers," he says. "I feel like I'm learning more than just language."
The four-week JMU program offers its participants beginner and intermediate courses on standard Arabic, along with instruction in Lebanese dialect. SINARC's other summer program offers four levels of intensive courses in Arabic language and culture, taught over a period of six weeks.
The institute has grown considerably in the last decade, last summer attracting 164 students from around the world. This year 96 students enrolled in the summer program, in addition to the 16 JMU participants.
Dr. Mimi Jeha, SINARC director, attributes the drop in numbers to the regional unrest, but adds that a number of the participants are completing their second summer in the program.
For Jeha there is a huge role at the institute for faculty-led programs similar to JMU. Last January, LAU hosted a group of students and faculty from Oberlin College, Ohio, USA, for a three-week intensive course in Lebanese dialect. The University of Cincinnati, Ohio, USA, is also working to establish a similar program for next summer.
What attracts the universities?
According to Jeha, the LAU faculty are year-round instructors, who have watched the program grow over time and are eager to innovate. "For foreign faculty, they get the opportunity to teach their students in an Arab environment, while immersing them in Lebanese culture," she adds.
SINARC also offers 15-week programs throughout the academic year. The fall program is from September 5 to December 9, 2011, and the spring program from January 23 till April 27, 2012.
Visit the SINARC website to learn more about its programs.