Joining hands against diabetes
LAU students and faculty from across the health disciplines hold a diabetes awareness day in Shatila camp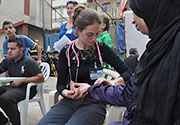 A volunteer monitors the heart rate and blood pressure of a patient.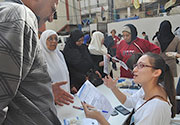 An LAU volunteer passes a patient a copy of his health results.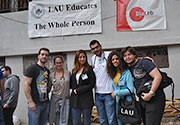 Over 40 LAU faculty members and students volunteered at the Diabetes Awareness Day.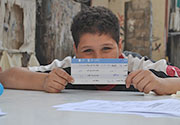 A young patient proudly shows of his personalized health results index card.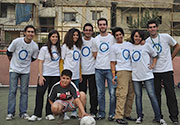 The day-long activities ended with a football match pitting LAU against PACES.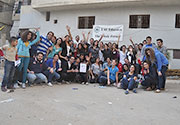 Over 40 LAU faculty members and students from the schools of Medicine, Pharmacy, Nursing and the Nutrition Program volunteered at Diabetes Awareness Day
Click on any photo above to view all five images.
Around 40 LAU students and faculty visited the Shatila refugee camp on November 17 to raise awareness about diabetes.
Volunteers from the Schools of Medicine, Nursing and Pharmacy and nutrition majors spent over a month organizing the event, which included customized consultations, awareness sessions on healthy eating habits and how to prevent or contain diabetes, and blood glucose testing. The goal was to improve understanding about the disease's prevalence and to show how medicine, nutrition and exercise regimes are crucial to treatment, said Dr. Mona Haidar, an instructor and coordinator of the medical school's Social Medicine and Global Health program.
The day-long events, which attracted over 200 residents, were held in collaboration with the Children and Youth Center in Shatila, the Palestine Association for Children's Encouragement of Sport (PACES) and national diabetes organization DiaLeb. The activities were held to mark World Diabetes Day, observed annually on November 14.
"Such awareness activities are crucial in giving LAU the opportunity to reach out to communities in Lebanon," said Chant Kazandjian, a nursing student. "Because of a lack of education and resources, residents like those in Shatila have a tremendous knowledge deficit when it comes to health and healthy behavior."
Diabetes, caused by the inability to produce insulin, is one of the biggest health epidemics of the modern era. The World Health Organization projects that diabetes deaths will double between 2005 and 2030, while figures show that the disease is almost four times as common as all forms of cancer combined.
According to the National Diabetes Organization (DiaLeb), around 20.2% of Lebanon's population suffers from diabetes. However, with poor national awareness or screening programs, only half of those with it are aware of their condition.
Instances of diabetes may be higher in areas of Lebanon like Shatila- researchers have found that those living in poverty are much more likely to develop the illness and to suffer from complications, such as amputations, blindness, or cardiovascular disease. Other social determinants of health, such as poor housing, diet and sedentary lifestyles, can also exacerbate the condition.
For medical student Fahed AbdelFattah Al-Ghanim, participating in the day's events was an important opportunity to build upon knowledge learnt in the classroom. "You get to see patients from many different backgrounds, which improves your communication skills," he said.
"Another thing I found enriching today was that all health faculties at LAU collaborated to produce a successful event. The interaction between the different health disciplines better prepares us for treating patients later on in our careers."
Loulya Chahine, a medical student and president of LAU's Social Medicine Society likewise found the day valuable. "It's a real privilege to have this experience. Not only did I get to interact with patients and lend a hand in a less fortunate community, but it immersed me into the kind of world in which I'll be working in a few years' time."
Nutrition students made a preliminary visit to the camp to understand what food was available to camp residents, said Dima Ousta, internship coordinator for nutrition majors at the School of Arts and Sciences. "By doing this we could tailor our nutritional advice to provide accurate and realistic information. We cannot just tell them to eat low-fat products because these are not available in the camps or are quite expensive."
According to Dr. Ghada Khoury, assistant professor at the School of Pharmacy and NAPHASS advisor, this activity provided pharmacy students with a better understanding of their role in the community. "It also highlighted the importance of interprofessional collaboration in enhancing the quality and effectiveness of patient care," she added.
Activities culminated in a football match between LAU volunteers and PACES. LAU suffered a rather spectacular 10-3 defeat, but no one really seemed to mind.