Journalism lessons from Syria
On the eve of World Press Freedom Day, the Department of Communication Arts, in collaboration with Al-Monitor media site, hosts a conference on the "Syrian Conflict Coverage."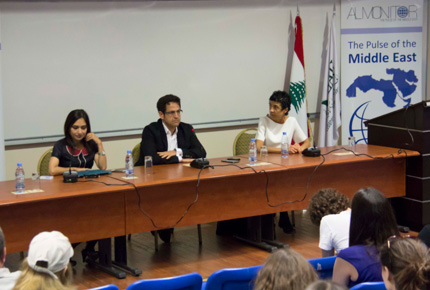 Last November, Reporters Without Borders officially announced that Syria had become the world's most dangerous country for journalists. This statement came after an unprecedented rate of reporter abductions was recorded in the country, making it nearly impossible for journalists to cover the conflict.
To address these challenges as well as propose ways of overcoming them, the Department of Communication Arts, journalism emphasis, organized a conference in collaboration with Al-Monitor media site entitled: "Syrian Conflict Coverage" on April 29.
"It has been said that the first victim of a war is the truth," mused Dr. Sami Nader, a columnist for Al-Monitor, political analyst and moderator of the event. It was this thought-provoking statement that set the tone for the evening and encouraged students to think critically about what is at stake when covering the war that is brewing next door.
Amberin Zaman, an Istanbul-based writer for The Economist gave a clear-eyed perspective of the difficulty of producing one uncontested version of the truth. "Even if you somehow are granted access in Syria, you will be escorted by either the regime or the opposition, so regardless it will still be a very limited perspective that you will get," Zaman explained.
To circumvent this coverage void, journalists are increasingly relying on social media as a primary source, speakers said.
"While social media has been fetishized as a liberating influence, we need to be careful to be cognizant of its shortcomings," warned visiting Assistant Professor Monika Halkort. "Many times there is no means of verifying the claims coming out of these platforms and so there is legitimate reason to be skeptical about it."
Zaman argued however that the benefits outweighed the disadvantages since it can give power to individuals that normally do not have a voice. "It is a double-edged sword: although social media has the potential to misinform it also can have a huge positive impact—that is why the Turkish government was so intent on shutting Twitter down in recent months."
The three panelists offered tips for budding journalists who are keen to embark on a career in the field: to diversify their sources, think critically, and check their ego at the door. "Never find yourself more interesting than the people you cover—this is a common disease in this field," Zaman cautioned.
For Marita Kassis, managing editor at Al-Monitor and co-organizer of the conference, the impetus was to give budding journalists an inside perspective on the profession from seasoned journalists.
"This event was very insightful and stimulating," said senior communication arts student Selim Njeim, adding that, "hearing how gratifying it is for these journalists to be a vehicle for people's voices is encouraging."
Njeim's professor Dr.Yasmine Dabbous, assistant professor of journalism and media studies, agrees wholeheartedly: "It is valuable for students to put the issues they learn in class into a practical context by benefiting from the experience of active journalists. It is an exciting time to be a journalist and we want to give our students all the tools they need to hit the ground running once they graduate."