Journalist May Chidiac addresses LAU students
The renowned former anchorwoman presents her foundation's new Media Institute, which aims to bridge the gap between academia and the media industry.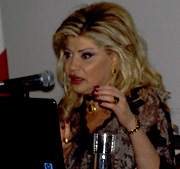 Dr. May Chidiac, the renowned former LBC anchorwoman, gives a presentation on "Bridging the Gap Between Academia and Media Industry," at LAU Beirut.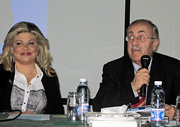 Chidiac with Dr. Fuad Hashwa, dean of the School of Arts and Sciences at LAU Byblos, during the Byblos lecture.
Dr. May Chidiac, the renowned former television journalist and anchorwoman for Lebanese Broadcasting Corporation, discussed the May Chidiac Foundation's newly established Media Institute in two presentations, titled "Bridging the Gap Between Academia and Media Industry," on March 21 at LAU Byblos and March 22 at LAU Beirut.
Chidiac, who reached international stature after a failed 2005 assassination attempt left her with serious injuries, described her hopes of leaving a journalistic legacy transcending the "living martyr" tag she gained following the incident.
Having recruited an experienced teaching staff, including Naharnet's editor-in-chief Nawfal Daou, Chidiac expressed her optimism about the institute's prospects of promoting quality journalism in Lebanon.
She critiqued, however, the popular notion that media can — or even should — be objective, insisting that this ideal is naive, that in fact the individual touch of a journalist is not only desirable but inescapable.
"There is nothing true about objectivity in media. The choice of segments, for example, in a report brings out the personal angle of the reporter," Chidiac maintained.
Chidiac noted the significance of the recent rise of social media for professional journalists, and confirmed that the institute will be offering intensive courses in new media.
"The social media revolution demonstrates the difference between the world of our generation and the world of your generation," Chidiac told the mostly young audience during the Beirut-campus event.
She also urged journalists to fight for their freedom in what she described as a global phenomenon of media suppression.
Chidiac, who holds a Ph.D. in Information Sciences from Pantheon-Assas Paris II University, has received a number of prestigious international press-freedom awards, including the Chevalier de la Légion d'Honneur from former French President Jacques Chirac and, most recently, the Courage in Journalism Award from the International Women's Media Foundation.
"The awards presented to us are an obvious indication that journalists are still struggling to win their freedom all around the world," she said.
When asked about ways of countering political stereotypes in Lebanon, Chidiac described her plans for a web TV show designed to foster uncensored political discourse in Lebanon.
Chidiac announced that prospective students of the Media Institute will be eligible for reduced enrollment fees.
The events were organized by LAU's School of Arts and Sciences with the help of Christian Oussi, executive director of Public and Media Relations at LAU; and Tony Farjallah, instructor of communication arts; in Beirut and Byblos respectively. They were mainly attended by communication arts (journalism and TV/film emphases) and political science & international affairs students.
Referring to the Byblos presentation, Dr. Fuad Hashwa, dean of the School of Arts and Sciences at LAU Byblos, says: "I was quite impressed with Chidiac's presentation and the discussion that followed; this is an opportunity for our students to participate in the May Chidiac Foundation workshops during their internships."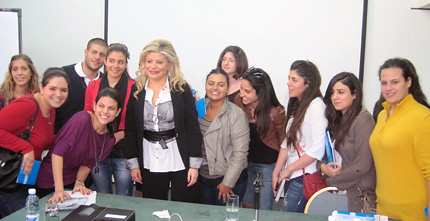 Chidiac with LAU Byblos students after her presentation.