Keeping it in the family: Business leaders discuss the art of succession planning
Lebanon's family business community partners with an LAU institute to share the successes and challenges of operating family-run companies.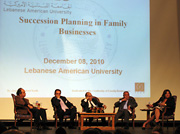 LAU's Institute of Family and Entrepreneurial Business organized a panel discussion titled "Succession Planning in Family Businesses," at LAU Beirut.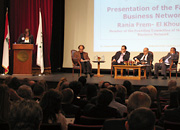 From left: Dr. Josiane Fahed-Sreih, IFEB director, tells the audience about the Family Business Leaders Network launched during the event, while panelists Khalil Fattal, Emir Youssef Abillama (event co-moderator), Antoine Boukather, and Emir Samir Abillama look on.
The challenges of transitioning family-run companies to the third generation were discussed by influential members of Lebanon's family business community, LAU faculty and students, during a gathering held in LAU Beirut's Irwin Hall Theatre on December 8.
Organized by the Institute of Family and Entrepreneurial Business at LAU's School of Business, the panel discussion — titled "Succession Planning in Family Businesses" — featured three family business leaders and their perspectives on succession based on their lifetime experiences.
"In succession planning, the process of planning is more important than the plan itself," said Dr. Josiane Fahed-Sreih, founder and director of IFEB and associate professor of management, in her opening remarks. "Unambiguous goals should be set in family business," she added.
The event was organized to launch the Family Business Leaders Network under the auspices of IFEB — the first of its kind in the Middle East — whose objective is to gather young family business leaders to share best practices and solutions.
Rania Frem-El Khoury, executive director of Georges N. Frem Foundation, a non-profit organization that promotes civil society in Lebanon, presented FBLN's aims and encouraged audience members to apply.
She highlighted the network's code of conduct: confidentiality, respect and professionalism, participation, trust and openness, and non-solicitation.
"There is a study that says 85 percent of family businesses are not passing to the third generation," said the event's co-moderator (along with Fahed-Sreih) and FBLN's vice chairman, Emir Youssef Abillama, who is the CEO of Maintenance Management Group (MMG). So, "how did you [successfully] guide your children to make the transition?" he asked the panel of three family business leaders.
The panelists all agreed that times are much different from when they joined the family business.
"In my case, there was no other choice but to join the company," said Khalil Fattal, president of Fattal Group, a distributor of premium brands in the Levant. But "with our [my and my brother's] own children, we wanted to give them the freedom to discover themselves better and choose a career on their own."
"The most important thing is to discover your talent, and I insisted that their decisions would be welcomed by us with love and support," Fattal added. Eventually, his son joined the business of his own free will.
Emir Samir Abillama, CEO of Al Amir Holding, specialists in the lift and elevator business — who has four sons, a nephew and two nieces — also felt that each child should be given the freedom to decide whether or not to join the business. The third-generation family members are now active shareholders and have brought diversification to the company through their individual professions.
"It makes sense that the new generation goes out on its own, has its unique experiences, and brings those back to the company," Fahed-Sreih summarized. "That's what we call added value."
Antoine Boukather, president of A.N. Boukather (exclusive distributor of Mazda and Piaggio), said he transitioned the family's automotive sales business to his two sons, Anthony and Nicolas, relatively smoothly. Each son is responsible for a separate operation, while he remains chairman of the Board.
The floor was then opened to the audience for questions and answers for the remainder of the event.
In 2011, FBLN will be conducting the following workshops: "Managing the Changing Corporate Culture as a Young Leader" and "Employee Stock Ownership Plans in Family Businesses."