Kefir contains anti-cancerous properties, discover LAU faculty and students
Dr. Sandra Rizk's lab tests show that the cultured milk product has preventive benefits and may help stop cancer caught early.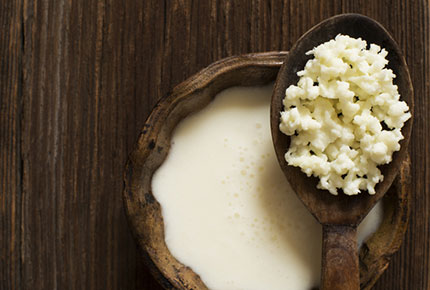 "I first heard of kefir in 2007. A friend of mine who was then battling cancer told me that she had heard it could help cure her," recalls Dr. Sandra Rizk, associate professor of Biology at LAU's Department of Natural Sciences.
Kefir is a cultured milk product, similar to yoghurt but with a thinner consistency. With a keen interest in the medicinal properties of all things natural, Rizk was intrigued. There was little academic research on the anti-cancerous properties of kefir.
Kefir 'grains' are made of a combination of 10 to 20 bacteria and yeast and when soaked in milk, the resulting drink is rich in probiotics, protein, vitamins, calcium and phosphorus, providing significant health benefits. "But can it treat cancer? That's what I wanted to know," says Rizk, recalling the research she undertook on the effect of kefir on leukemia.
Rizk's friend, Maha Kalaji, had been battling breast cancer, and Rizk would later study the effect of kefir on the proliferation and motility of breast, as well as colorectal, cancer cells. She first needed to get her hands on kefir grains, known to originate in the Caucasus Mountains of Eastern Europe.
"Maha knew members of the royal family in Jordan who had a family member battling cancer and had also pinned some hope on the potential curative properties of kefir, so she sourced the first grains we used in the lab," recalls Rizk, visibly moved when remembering her friend who ultimately lost her battle with cancer in 2012 after it had metastasized to other parts of her body.
"Based on the results of all our research, Maha would not have benefited from kefir as her cancer was too advanced and the cancer cells had already started invading the rest of the body," explains Rizk.
The results were published both in specialized medical journals and within the master's theses of the three LAU students who worked with Rizk in the lab. The last of the journal reports, published in a recent issue of the International Journal of Oncology, concludes that while kefir was shown to inhibit the rapid increase in numbers and induce cell death of breast and colorectal cancer cells, it did not significantly effect the motility and invasion of those cells.
"This means that kefir has preventative benefits and may help stop cancer caught early, but based on our lab tests, it doesn't cure it or stop it invading and spreading into other parts of the body," explains Rizk, who for now will not be extending her research into kefir. "I may return to it one day to study the effects in vivo, on a living organism, to expand on our lab test done in vitro, but for now our conclusions do not demand further study."
Rizk's study of the benefits of natural products on cancer therapy is not however over. She is currently engaged in a study of the compound thymoquinone extracted from Nigella sativa seeds (habit al barake) to assess its ability to boost the effect of certain anti-cancer drugs.
"I have also studied the anti-cancerous properties of fennel, and ran a comparison of the anti-cancerous properties of cabbage versus kohlrabi," recounts Rizk, a plant specialist who gained her Ph.D. in Glasgow before returning to Lebanon to teach at various universities before joining LAU fulltime ten years ago.