Celebrating innovative engineering project and fundraising climb
LAU students and staff will soon climb Mount Kilimanjaro to raise funds for an exoskeleton research project carried out by the School of Engineering.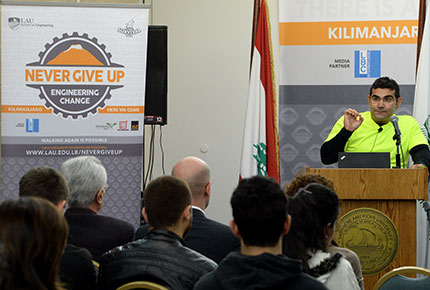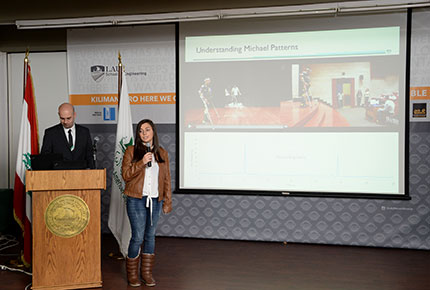 Eight members of the LAU's Survival Team will climb mount Kilimanjaro this January in a bid to raise funds for a research and development project being carried out by staff and students at the university's School of Engineering.
The climbing team joined LAU President Joseph G. Jabbra, Minister of Sports and Youth Abdel Motaleb Hennawi and project champion Michael Haddad at the Byblos campus to officially launch the Never Give Up program.
Through pure will and determination, Haddad, who is paralyzed, has completed more extreme walks and climbs than most able-bodied people. He carries his weight on his arms using crutches and wears an exoskeleton to keep his body stable.
"Michael shouldn't have been able to stand nor move using the primitive exoskeleton he had previously worn. But he was able to use his upper body muscles for balance in a way few paralyzed people can," says Barbar Akle, LAU professor in mechanical engineering. Akle is the leader of an innovative project that has LAU's budding engineers studying Michael's movements, so as to build a sophisticated affordable exoskeleton that can enable other paralyzed people to walk.
"Two percent of the world is paralyzed, so thousands will be able to benefit from the system we are creating with Michael's help," said Akle at the launching held on December 17, surrounded by students involved in the project. The event formally announced the seven-day fundraising Kilimanjaro climb that will take place in the last week of January 2015.
A short film that included words of encouragement and determination by LAU students and a request by Michael Haddad to the public "to be the change and support the exoskeleton research at LAU."
No financial target has been set because, says the climb's team leader Alan Kairouz, "research is an ongoing process and has no limits, so we have not set limits for ourselves either." Donations are now being accepted on the project specific website, which also introduces the mechanics and methodology of the research and development.
All LAU departments have been involved in one way or another in the development of the project, which "began during a phone call with the head of the Beirut Marathon Foundation, May Khalil, who told me about Haddad," explained Jabbra. "He then came to me and said 'I am paralyzed from the waist down and I'm defying the odds, but I need someone to defy the odds with me.'" Jabbra solicited the help of Phoenix Industries, who agreed to make the system free of charge if LAU students developed it.
Visibly impressed by the project Hennawi wished his son, an engineer, could have been part of the development team. "You've turned danger into an opportunity and added a great achievement to a struggling country with this innovative invention," said the sports minister proudly.
"I am thrilled about this project. We have been training regularly and working so hard for the climb, but it is worth every moment," said team member Dr. Elise Salem, vice president of the Student Development and Enrollment Management office, announcing that she was going to spend her weekend hiking and camping in the Cedars in preparation.
Also visibly proud and excited by the achievement thus far was Haddad. "We at LAU are making a change, a change every disabled person dreams of. We, as a team, are walking for this technology to make this dream a reality."
For more information about the Kilimanjaro climb and the exoskeleton project, and to donate, visit the project specific website at http://nevergiveup.lau.edu.lb