Late poet Jawdat Haydar remembered at LAU gathering
The event marked the third anniversary of the death of the renowned Lebanese poet.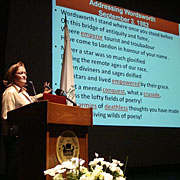 Dr. May Maluf, associate professor of English literature at the Lebanese University, focused her lecture on the examination of the late Jawdat Haydar's poetry.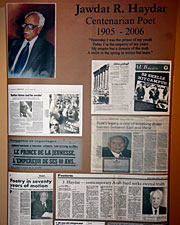 News clippings about Haydar decorated the entrance to LAU's Irwin Hall Auditorium, where the event was held.

Maluf challenged academics in the audience to read Haydar's poetry "with an open mind."
Click on any photo above to view all three images
Marking the third anniversary of the renowned Lebanese poet Jawdat Haydar's passing, his friends, family and admirers gathered at LAU Beirut's Irwin Hall Auditorium on December 4 for a tribute co-organized by LAU's School of Arts and Sciences and The Friends of Jawdat Haydar.
In her opening remarks, by Dr. Samira Aghacy, dean of the School of Arts and Sciences in Beirut, explained Haydar's deep passion for the environment.
"Haydar's attachment to nature should not be considered as an escapist attempt to shy away from contemporary issues," she said. "In his poetry, he's explicit about his aversion and anger at the abuses of the Earth's natural resources that have polluted the world and caused irrecoverable and irreversible change."
Dr. John Monroe, former professor of English literature at AUB, traveled from Cyprus to speak at the event. Monroe described meeting Haydar for the first time in 1984 when the poet visited his AUB office unannounced.
Monroe, who had also been working as a journalist at the time, said that he began to question Haydar about the political situation and role of the Amal Movement in Haydar's hometown of Baalbeck, causing the poet to grow visibly annoyed.
"Jawdat gave me a dismissive wave of the hand and said, 'these things will pass,'" Monroe recalled. "He wanted to show me his poetry."
"Why would you want to discuss something so serious when you have such a beautiful view from your window?" Monroe added, paraphrasing Haydar's response when he attempted to continue discussing politics.
Dr. May Maluf, associate professor of English literature at the Lebanese University, was next to take the stage where she presented a close examination of several of Haydar's poems.
During his career, Haydar published numerous works in Arabic and four volumes of poetry in English: Voices (1980), Echoes (1989), Shadows (1998) and 101 Selected Poems (2006), shortly before his death at the age of 101.
Because of the poet's habit of weaving through various literary styles and touching on a broad range of issues, Maluf explained that Haydar's readers have trouble understanding from which lens to view his work.
"Intrigued by the prolific stylistic modes of Haydar's poetry, readers often find difficulty in categorizing his poetic imagery — they have difficulty placing him in a literary canon," Maluf said. "Solution: Let's refer to him as a great poet."