LAU-MEPI Tomorrow's Leaders sets the bar high
The University Enterprise Office organizes a three-day retreat to prepare its students for an ambitious program.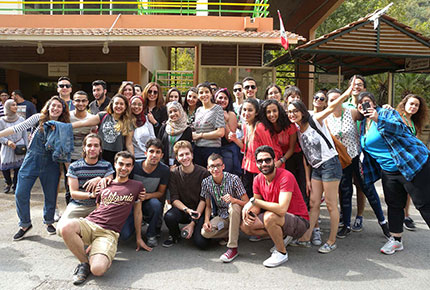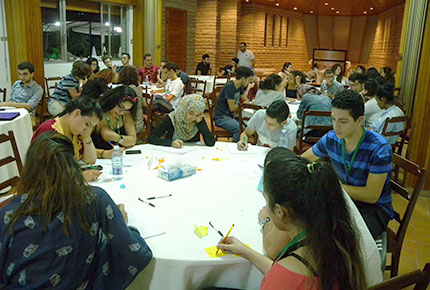 Last weekend, LAU-Middle East Partnership Initiative Tomorrow's Leaders program (LAU-MEPI TL) held a three-day retreat in the mountains of Feytroun. The workshop and activities-filled event was primarily designed to break the ice between the newer students and those already studying at LAU, as well as to prepare them for the program's intense demands.
"We have a new cohort of 22 students who joined the MEPI program this year," says Dr. Walid Touma, director of the University Enterprise Office who manages the program. "They have to meet the older cohorts and mesh with them — coming here for a few days is the easiest way to achieve this."
Now in its eight cohort, the LAU-MEPI TL program provides higher education opportunities to youth from around the Arab world who demonstrate outstanding leadership potential but who may otherwise not have the chance to study in an American educational system. For Touma, the retreat is essential to their success: "This weekend we are setting the tone of the year and the foundations for a dimensional shift. Mediocrity is not a choice."
The dimensional shift expected of the students by Touma and the administration of the LAU-MEPI TL program is a very serious and ambitious one. The students will be taking part in three big initiatives while studying: My Passport My Visa (a drive to allow Arab citizens to travel freely between Arab countries), the Debates initiative (which trains the students on how to defend and communicate their ideas) and Donate to Educate (a campaign to educate refugees and the needy). The LAU-MEPI TL students will also be supporting an alumna and four female students as they run for parliament in their respective countries.
For all those projects, they will require a very advanced set of real world skills. "This year the students will learn about accepting the other, be introduced to electoral campaigning and also learn about fundraising," says Loulwa Kaloyeros, MEPI's academic coordinator. "This is a scholarship program that is leadership based, and will potentially create leaders from ten different Arab countries. The scholars are highly engaged in social and political issues and many of them have already become top leaders in LAU's MUN and debate programs, for example," she adds.
Nassib Nasr, assistant vice president for development at LAU gave the students a presentation on fundraising. "I was very impressed by their interaction with me — they wanted to know all the important techniques in fundraising, which reflects their amazing eagerness to support other members who are in need in our communities whether on the educational level or the health level."
For Abdelmadjid Hayi, a MEPI TL student from Algeria, the workshop was really beneficial. "We also learned a lot in Dr. Makram Ouaiss' workshop on electoral campaigning. On top of all this, I got to meet new students and to feel like I have a family away from home now."