LAU alumna and artist Lamia Muhtar's dedication to peace and children
The sculptor and painter draws on the healing power of art to alleviate Lebanese children's plight and promote civic tolerance and engagement.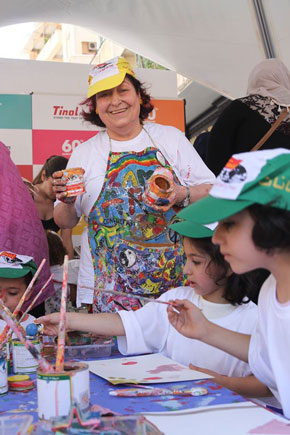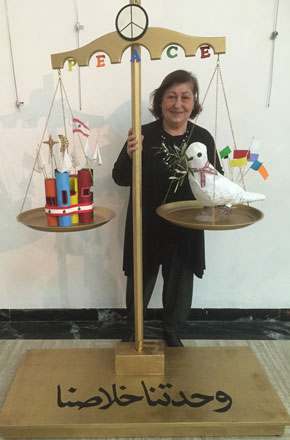 Pablo Picasso's tenet that "art washes away from the soul the dust of everyday life" has been the guiding principle in renowned artist Lamia Saab Muhtar's professional career. The cathartic power of art, which has served her well in her life and vocation, thus became the cornerstone of her social work.
"Art is the best way to express yourself even if you are not an artist," she says, "When I am going through a difficult time, that is when I produce the best art."
With that in mind, the LAU alumna (B.A. '72) decided to draw on her talent and experience to alleviate the plight of children and promote civic tolerance and engagement.
"This year I opened my home every weekend for eight months to artists from all over Lebanon to come and paint. When all the works realized there were sold, raising over 10,000 USD, the funds were donated to the Children's Cancer Center of Lebanon which is affiliated to the St. Jude Children's research hospital," she enthuses.
Such values of commitment and dedication, Muhtar says, were instilled in her during her years at LAU. "This is where I learned that we never stop learning in life and that we can support and inspire each other."
Muhtar's endeavors are deeply rooted in her personal experience. Born in 1949, she spent her childhood in Baghdad. When she moved back to Lebanon at the age of 13, it was through art activities at school that she overcame her sadness and longing for her family. Naturally, after 25 years in teaching, Muhtar went on to obtain a degree in art therapy from the International Academy for Building Capacity.
As a part-time therapist at the Panda pre-school in Choueifat for two years, she used her art to help children surmount their troubles. "I would read books to the children, which we would discuss. I would then have them draw and paint scenes from the stories," she explains. Muhtar still volunteers twice a week in this programme which caters to children with anger management issues. Another volunteer project she participated in, called 'Ana Aqraa' ('I read' in Arabic), aimed at fighting illiteracy among underprivileged children.
Muhtar's civic engagement extends to strong beliefs in peace, justice and tolerance. Last year, a cardboard structure she exhibited at UNESCO was received with wide acclaim. The sculpture represented the 18 different confessions of Lebanon carrying white flags balanced with a white dove. "When we are united we find peace," the artist states.
Muhtar finds her artistic inspiration in the different countries she visits and which she depicts through vivid colours and changing styles, often applying acrylic paints and collage materials on almost any surface possible. While her portfolio counts two solo exhibitions in Beirut and several group exhibitions around Lebanon as well as Jordan and Saudi Arabia, her upcoming travels will take her to Venice, Italy, along with 15 other artists.